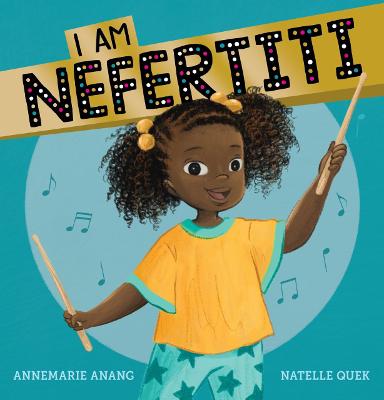 By Author / Illustrator
Annemarie Anang, illus Natelle Quek
Genre
Personal Growth
Age range(s)
5+
Publisher
Five Quills
ISBN
9781912923311
Format
Paperback / softback
Published
02-06-2022
Synopsis
When Nefertiti plays the drums, the band plays as one. "I am Nefertiti" she says, and she feels ten feet tall. But when the new music teacher shortens her name to 'Nef', bit by bit, she starts to shrink. Without Nefertiti to keep thebeat, the band is in disarray...  "I am Nefertiti!" she whispers to herself. Drawing on her inner strength and with the support of the other children, they help Miss Potts recognise the importance of honouring Nefertiti's name. Now, when Nefertiti keeps the beat,the music sounds so sweet!   A heartwarming, joyous, empowering story of identity and belonging.
Reviews
Sharon
When someone can't use your name it makes you feel worthless and this happened to Nefertiti when a new music teacher instructs the school band. Once the teacher can say her name, however, her confidence and playing improve. Eventually, the band is rocking with Nefertiti holding the rhythm together with her powerful drumming.
I am Nefertiti is a great way to show the effects our words can have on others and how important our names are for our identity. "When Nefertiti played well, it made me feel really proud for her." D aged 10. We used this story as an introduction to a drumming music lesson, but it could have easily slotted into a PSHE or English lesson. 
Picture book / Reviewed by Sharon Porter, teacher
Suggested Reading Age 5+
Other titles