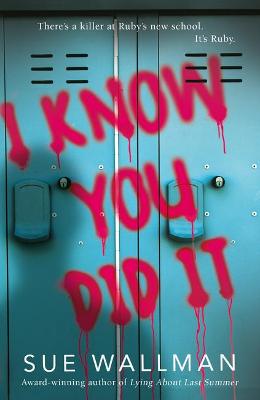 By Author / Illustrator
Sue Wallman
Genre
Suspense & Thrillers
Age range(s)
14+
Publisher
Scholastic
ISBN
9780702302701
Format
Paperback / softback
Published
06-05-2021
Synopsis
There's a killer at Ruby's new school. It's Ruby. On her first day at a new school, Ruby finds a note in her locker saying "I KNOW YOU DID IT". She's terrified that someone has found out she was responsible for the death of a girl called Hannah in a playground when they were both toddlers - a secret that has haunted her for years. When first one, then two students are found dead, it looks like Ruby is being framed by another killer. Or, she might be next. One of the UK's top teen thriller writers, Sue Wallman is the award-winning author of Lying About Last Summer and Dead Popular Perfect for fans of Karen McManus, Holly Jackson, and We Were Liars
Reviews
Stephen
Murder, secrets, school, friendship and lies all come together in this gripping page turning novel by Sue Wellman. For 17-year-old Ruby, starting a new school should be the fresh start she needs for focus on her exam year and leave the past behind her. But when she finds a note stuck to her locker saying 'I KNOW YOU DID IT', Ruby realises her past may not be so easy to forget - and is petrified someone has found out her secret, her involvement in the death of a young girl - but who could know? As gossip circulates the school and nasty comments head her way, Ruby struggles to cope with school but is determined to stick in for the sake of exams and her mum. However, the unexpected death of a pupil rocks the school. But who did murder the pupil, how will Ruby deal with becoming suspect number one and will the killer strike again?
I Know You Did It is such a brilliant novel and I really enjoyed reading it! The plot flows so well with twists and turns, hold your breath moments and moments of reflection to keep you turning those pages right to the end of the novel and guessing who may be the murderer! Sue Wallman captures the essence of High School so well, especially the different groups of pupils and the relationships between pupils (the falling ins and falling outs), the student newsletter (the Robinson Record) and the isolation some pupils feel at school and I think teen readers may relate to some of these issues. The impact of social media on students and mental health features in the book and this was good to see and could prove a useful discussion point with students on this topic, both the positives and the negatives.
The characters are well written and I really felt for Ruby and what she was going through and riled by others like Monique, and the relationship between Ruby and Euan was touching to see develop being a contrast to the taught drama of the rest of the book - and that's great writing! Also watching how people were manipulated by other students was fascinating and again, some readers may relate to this issue and be reminded they can do something about this.
For me I Know You Did It is everything a teen / YA novel should be - exciting, full of drama, characters and issues you can relate to, and a great plot which flows at a sizzling pace! While I didn't work out who did it till it was revealed, I do know I'll be looking out for other Sue Wallman novels. Highly recommended.
352 pages / Reviewed by Stephen Leitch, school librarian
Suggested Reading Age 14+
Other titles