I'm Just No Good At Rhyming: And Other Nonsense for Mischievous Kids and Immature Grown-Ups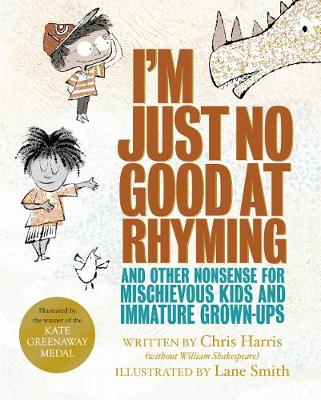 By Author / Illustrator
Chris Harris, Lane Smith, Lane Smith
Genre
Adventure
Age range(s)
7+
Publisher
Pan Macmillan
ISBN
9781509881048
Format
Hardback
Published
19-10-2017
Synopsis
'Highly recommended. I think it will make children wriggle with delight.' - Stephen Fry.
If I ever find myself holding a gecko . . .
I'll lecko.

Forget what you think you know about poetry - this is something totally different. Chris Harris's I'm Just No Good At Rhyming combines wit, wordplay and nonsense with visual and verbal tricks to make you look at the world in a new and wonderfully upside-down way, reminiscent of Shel Silverstein.
I'm just no good at rhyming.
It makes me feel so bad.
I'm just no good at rhyming,
And that's why I'm so blue.
This entirely unique collection of wildly witty words offers a surprise around every corner, from the ongoing rivalry between the author and illustrator (mean poem and cruel portrait included), to the mysteriously misnumbered pages that can only be deciphered by a certain code-cracking verse, to a poem that is 100% genuinely infinite. Meet a balding werewolf, competitive boulders, a birthday piranha, and find out if grown-ups really are better!
Why are grown-ups better than kids?
'Cause we got what it takes -
We never, ever, ever, ever, ever, make mistaeks!
Adding to the fun: Lane Smith, winner of the CILIP Kate Greenaway Medal for There Is a Tribe of Kids, has spectacularly illustrated this extraordinary collection with nearly one hundred pieces of appropriately absurd art. It's a mischievous match made in heaven and the perfect gift for creative kids or immature grown-ups.
Reviews
Sue
From cover to cover, this book is full of fun, offering a very irreverent and appealing approach to poetry! Word play and nonsense sit alongside more reflective and thoughtful poems. All are gloriously illustrated. 'My Dessert Tummy' explains perfectly why so many of us can always find room for pudding. Harris and Smith playfully argue through poems like 'I Don't Like My Illustrator' and the picture which accompanies it or 'The Nursery Rhyme - Little Boy Blue' with some words replaced by delicious Greek Food! For a teacher, this collection offers endless possibilities for engaging their children with poetry. Many of these would be wonderful for performing, their bounce and humour making them easy to learn by heart. Using many different layouts and poetic styles, this is a collection everyone will enjoy! 192 pages / Ages 7+ / Reviewed by Sue Wilsher, teacher.
Suggested Reading Age 7+
Other titles