I Really, Really Love You So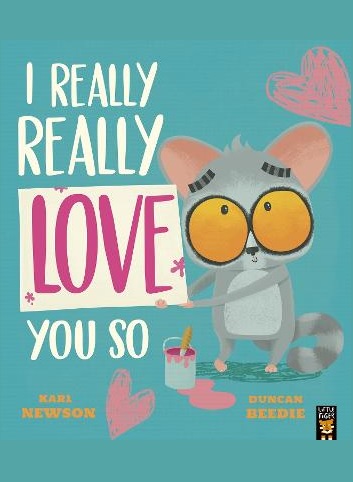 By Author / Illustrator
Karl Newson, illus Duncan Beedie
Genre
Family & Home
Publisher
Little Tiger Press Group
ISBN
9781801044080
Format
Paperback / softback
Published
05-01-2023
Synopsis
The hilarious sequel to the bestselling I Really, Really Need a Wee, by dynamic duo Karl Newson and Duncan Beedie, will not disappoint fans of this cute and curious Bush Baby.  Bush Baby is BACK . . . and has something really, really IMPORTANT to say . . . but how?!  From climbing a mountain, to wrestling with crocodiles, this story is packed with extreme and exciting ways to show a special someone that you love them. But sometimes the simplest way to show that you care is the best way . . .
This fantastically funny story explores all the ways to say "I Love You". Fans of Guess How Much I Love You by Sam McBratney and Anita Jeram, The Boy Who Loved Everyone by Jane Porter and Maisie Paradise Shearring and I"ll Love You Always by Mark Sperring and Alison Brown will LOVE, LOVE, LOVE this fabulous story.
PRAISE FOR I REALLY, REALLY LOVE YOU SO:  "Glorious! One of those books that simply makes you happy!"  Lu Fraser (author of The Littlest Yak).  "Adorable. Delightful! Bursting with LOVE."  Rashmi Sirdeshpande (author of Yes You Can, Cow!)
Reviews
Jessica
I Really Really Love You So is brought to us by the best-selling and multi-award winning author of I Am a Tiger, I Am NOT An Elephant and my favourite, A Bear is a Bear (except when he's not). This time, Bush Baby returns with a very special message to share, "I really, really, really, really, REALLY LOVE YOU SO!"
Bush Baby tells us the lengths it would go to in order to show its love, from wrestling with a crocodile to climbing the tallest mountain. Or maybe love is best shown through a gift? But making things can be very hard, especially when you are so easily distracted! Showing how much you can love someone could get you into all sorts of trouble…!
As I was snuggled up with my 18 month old, I read, 'Nothing is as lovely as a great big hug with you! I really, really love you so. I do. I do. I do!' We all need moments like these where we pause and enjoy precious moments. What better feeling is there than the 'twinkle' in your toes and 'tingles' in your tummy when you feel loved.
There are so many gifting possibilities with this book, especially for that special valentine: gifting between couples, a gift from a parent to their child, a grandparent to their grandchild and any loving relationship. What better way to spread the message of love and tell someone how much they mean to you than through a gorgeously endearing picture book! Who will you be gifting this book to this Valentine's Day?
Picture book / Reviewed by Jessica, teacher
Suggested Reading Age 0+
Other titles