I Really Want That Unicorn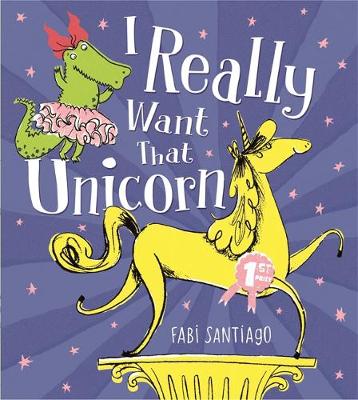 By Author / Illustrator
Fabi Santiago
Genre
Adventure
Age range(s)
5+
Publisher
Hachette Children's Group
ISBN
9781408336915
Format
Paperback / softback
Published
04-10-2018
Synopsis
Love unicorns? Enjoy talent shows? Pick up this book and laugh yourself horse.

A delightfully funny book with the message that friendship is more important than anything. Even unicorns!

Chloe the Crocodile is preparing for a talent show. and not just any talent show. The prize is a Big Sparkly Mellow Yellow Unicorn, and Chloe MUST have it. To win, she must make the best rainbow unicorn cake, the best magic castle, the best fairy unicorn outfit AND give the perfect performance on her unicycle.
Chloe is confident she can win. Until Veronica arrives!
WITH PINK FOIL COVER

Praise for Tiger in a Tutu:
\"The saga of Max and his determination to get on the stage reads something like a fun version of Billy Elliot . . . engagingly romantic.\" Independent
Reviews
Lauren
Ever wanted to win a big, sparkly, Mellow Yellow Unicorn? Chloe Crocodile does, desperately! The only way she can do this is to win Miss Twinkletoes' talent competition. All Chloe has to do is bake a rainbow cake, make a magic castle, design a unicorn fairy costume and give her best performance! Easy right? She just has to beat her biggest competition, Veronica the Elephant. Chloe and Veronica are both very good at lots of things and try their hardest. Every time Chloe does well, Veronica does better. But, it isn't down to them to decide who wins, its Miss Twinkletoes's decision. Although neither of them win, they become friends and agree that friendship is much more important - for now! This tale was sweet and funny and was brilliantly put together by Fabi Santiago who both wrote and illustrated the book. It's a sweet tale of not giving up and trying your hardest, even if you don't succeed, and most importantly a tale of friendship. This would be a lovely book to use in Circle Times or PSHE lessons or even just to recognise and value different friendships and how they can form in the most unlikely of cases! Picture Book / Ages 5+ / Reviewed by Lauren Maidman, teacher.
Suggested Reading Age 5+
Other titles