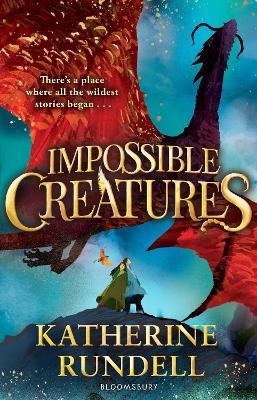 By Author / Illustrator
Katherine Rundell
Genre
Fantasy
Age range(s)
9+
Publisher
Bloomsbury Publishing PLC
ISBN
9781408897416
Format
Hardback
Published
14-09-2023
Synopsis
There's a place where all the wildest stories began... From Katherine Rundell, winner of the Costa Children's Book Award, the Blue Peter Book Award and the Waterstones Children's Book Prize comes the first novel in a landmark trilogy for 9+ fans of His Dark Materials.
'It was a very fine day, until something tried to eat him.' A boy called Christopher is visiting his reclusive grandfather when he witnesses an avalanche of mythical creatures come tearing down the hill. This is how Christopher learns that his grandfather is the guardian of one of the ways between the non-magical world and a place called the Archipelago, a cluster of magical islands where all the creatures we tell of in myth live and breed and thrive alongside humans. They have been protected from being discovered for thousands of years; now, terrifyingly, the protection has worn thin, and creatures are breaking through. Then a girl, Mal, appears in Christopher's world. She is in possession of a flying coat, is being pursued by a killer and is herself in pursuit of a baby griffin. Mal, Christopher and the griffin embark on an urgent quest across the wild splendour of the Archipelago, where sphinxes hold secrets and centaurs do murder, to find the truth - with unimaginable consequences for both their worlds. Together the two must face the problem of power, and of knowledge, and of what love demands of us.
Find out more in our Q&A with author Katherine Rundell 
'There was Tolkien, there is Pullman and now there is Katherine Rundell. Wondrous invention, marvellous writing.' - Michael Morpurgo.  'A marvellous, imaginative fantasy told with great style and sparkle - a book to race through in a day and keep for a lifetime.' - Jacqueline Wilson.  'Katherine Rundell is a phenomenon. ' - Neil Gaiman.  'Fantastically exuberant, wildly imaginative, impossibly brilliant. Rundell's best, which is something to be marvelled at.' - Kiran Millwood Hargrave.  'Between the covers of Impossible Creatures is a world as enchanting, as perilous, as richly imagined as Narnia or Middle Earth.' - Frank Cottrell-Boyce.  'A fierce, fantastic, wild-hearted adventure that roars and bristles with imagination. I devoured it like a hungry dragon' - Sam Sedgman.  'A rare and remarkable feat of glittering imagination from a truly masterful storyteller.' - Catherine Doyle.  'My Book of the Year.' - Lauren St. John
Reviews
Clair
Katherine Rondell's Impossible Creatures is a stunning book! The endpapers are illustrated with a map of The Archipelago, a secret cluster of islands where all the mythological creatures live side by side with humans. This is followed by The Guardian's Bestiary; a wonderful illustrated list of mythical creatures that survive in this magical place.
The adventure begins with Mal, a girl with a flying coat, from The Archipelago. We are launched straight into the action as she is fleeing from a murderer. As she flees, she meets Christopher Forrester who is visiting his reclusive grandfather in Scotland. Christopher seems to attract animals, a bit like a magnet, which can cause quite a stir in the real world, but even he is surprised to find a baby griffin in a hidden lake. The magical lands of Archipelago have been protected and kept hidden for thousands of years. It would seem that now, terrifyingly, the protection has worn thin and the creatures (not all as friendly as the griffin) can break through. Christopher agrees to go back with Mal to help protect her and save Archipelago.
This book was an absolute pleasure to read from start to finish. I really did feel as if I was on the quest with Mal and Christopher. The creatures and characters that they meet along the way were all brought to life for me. It was an imaginative and fresh read. I have to say that I had a particular fondness for Jacques who was a Jaculus, a miniature dragon.
Katherine Rundell is a hugely popular author with our students and I can see why! She has woven a fabulous fantasy adventure which will really sweep you away. I'd recommend this to fans of J K Rowling's Fantastic Beasts and Philip Pullman's His Dark Materials.
368 pages / Reviewed by Clair Bossons, school librarian
Suggested Reading Age 9+
Beverley
Christopher Forrester has been sent to Scotland to spend time with his grandfather, Frank, and is dismayed to find himself in the middle of nowhere in a run-down house with no internet or phone signal. He is told that he can go anywhere, but is forbidden to go to the top of the nearby hill. Of course, it's the first place Christopher heads towards, and, to his amazement, he finds out about a secret place called the Archipelago, a series of islands which exists in the North Atlantic, alongside the human world. Here, all of the magical creatures of myth and legend live, unknown to man. The islands are protected by a magical force called the glimourie, but it is fading, and the creatures depend on it for life. When Christopher decides to investigate for himself, he meets Mal Arvarian, a girl from the Archipelago who is fleeing from a man who seems to want to murder her. Together, the children are plunged into a wild and exciting adventure as they attempt to save the Archipelago from the evil forces which threaten its existence.
Impossible Creatures is a beautifully written novel, full of magic and action, with a subtle underlying message about the importance of looking after the environment. At the beginning of the story, the author uses alternating chapters, first featuring Mal and then Christopher, which cleverly builds up the tension and ensures that the reader is drawn straight into the book. Mal is a wonderful character; a girl who has a coat which enables her to be able to fly, and who is brave and loving and loyal. Christopher is the perfect foil for Mal, supporting her no matter how frightening and hopeless her quest seems to be.
As the two journey onwards, they are joined by a great supporting cast; Fidens Nighthand, the Beserker sailor, whose job it is to protect Mal, and Irian Guinne, a scientist who has her own part to play in the adventure. They embark on an epic voyage, meeting countless 'Impossible Creatures' along the way. As Mal's true identity is revealed, the band of travellers must face the deadliest of enemies if they are to save the Archipelago.
The addition of a detailed map allows the reader to follow the travels of Mal and Christopher, and the wonderful Guardian's Bestiary, which opens the book, perfectly brings to life the creatures we are reading about. Tomislav Tomic deserves high praise for his beautifully detailed illustrations, which truly help to make the book sing.
There is much humour within the story, but there are some dark moments and some unsettling plot twists which may be upsetting for the younger reader. However, I feel that this is an important novel, destined to become a classic, which will make the discerning reader think hard about the damage we are doing to our world. As Petroc the centaur says, "It's a concept you humans have always struggled to grasp: that time might run out."
I loved this novel, it was a total pleasure to read and review. Any chance of a sequel?
368 pages / Reviewed by Beverley Somerset, school librarian
Suggested Reading Age 11+
Other titles