In or Out: a tale of cat versus dog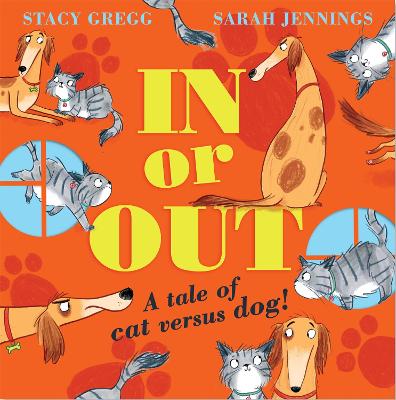 By Author / Illustrator
Stacy Gregg, Sarah Jennings
Genre
Funny Stories
Age range(s)
3+
Publisher
HarperCollins Publishers
ISBN
9780008517250
Format
Paperback / softback
Published
02-03-2023
Synopsis
A hilarious story about friendship, patience and paw-prints! Brilliantly written by Stacy Gregg and illustrated by Sarah Jennings.
Dog wants in. He's trying to build blocks, play with his cars and finish his painting masterpiece.  Cat wants in. No, Cat wants out. In. Out. In. Out. It's enough to drive Dog crazy!  Featuring well-known pets and their all-too-familiar characteristics, this fun-filled story is comedically told through the antics of mischievous Cat and increasingly impatient Dog. Can they end the day as friends?

Written by bestselling author Stacy Gregg and brilliantly illustrated by Sarah Jennings, this hilarious tale about patience, friendship and understanding will have kids giggling all the way through!
Reviews
Maria
This book is SO clever! In or Out tells the tale of Dog and Cat and Cat's indecisiveness. Dog wants in but Cat want in, then out...and it just goes on and on. Dog is extremely patient letting Cat in and out as he plays, paints and relaxes indoors. The gorgeous illustrations show Cat being let in and out by Dog, who eventually gets mad with Cat.
This simple but effective text supports the illustrations and the fun relationship between Dog and Cat. Year 2 (ages 6+) loved this book and giggled, laughed and shouted with joy at the antics of these animal friends! A great book to read and share!
Picture book / Reviewed by Maria, teacher
Suggested Reading Age 3+
Jen
Before I even had time to read In or Out, my six year old had picked it up and was giggling away. 'Whats so funny?' I asked. 'The dog is getting so annoyed with the cat,' She says as she grins.
This book is a simple yet effective tale of an indecisive cat who is not sure if she want to be inside or outside. The images tell the story all on their own. Children will love reading this to themselves using the pictures or the words.
I read this to my class of 5, 6 and 7 year olds. Then they all rushed to the book corner to read it themselves the next day. A brilliant story.
Picture book / Reviewed by Jen Bevan, teacher
Suggested Reading Age 3+
Other titles