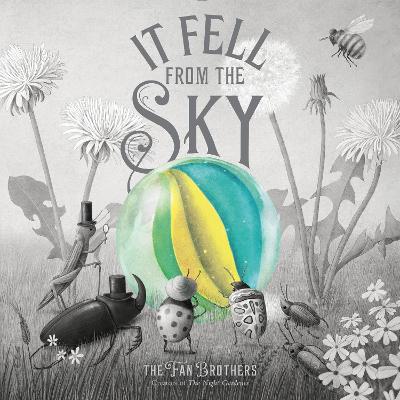 By Author / Illustrator
Terry Fan, Eric Fan
Genre
Picture Books
Age range(s)
5+
Publisher
Frances Lincoln Publishers Ltd
ISBN
9780711270657
Format
Hardback
Published
01-02-2022
Synopsis
From the creators of the critically acclaimed The Night Gardener and Ocean Meets Sky comes a whimsical and elegantly illustrated picture book about community, art, the importance of giving back - and the wonder that fell from the sky.

It fell from the sky on a Thursday. None of the insects know where it came from, or what it is. Some say it's an egg. Others, a gumdrop. But whatever it is, it fell near Spider's house, so he's convinced it belongs to him.  Spider builds a wonderous display so that insects from far and wide can come to look at the marvel. Spider has their best interests at heart. So what if he has to charge a small fee? So what if the lines are long?  But as Spider raises the prices, insects stop showing up, much to Spider's bemusement. And then, all of a sudden, an unexpected disaster hits and the marvel disappears!

This charming story is accompanied by characterful illustrations, and also teaches children important life lessons about greed and the importance of sharing.
Reviews
Lauren
It Fell from the Sky on a Thursday… This is probably one of the most beautifully illustrated picture books I have seen for a very long time and the story is very good too!
An unidentified object lands for all insects to see. No one knows what it is or where is came from – a lot of insects try to guess, look after and even take the object. That is, until the crafty Spider decided to make it into an attraction called WonderVille. All the insects in the land decide to help make and queue to see this spectacle until the Spider becomes greedy and there is 'Unexpected Disaster'. Spider loses all his friends, his attraction and his pride.
This is an absolutely stunning picture book. The attention to detail in the illustrations are phenomenal and I loved how they chose to put the pictures in black and white apart from the 'object'. I would read and use this picture book with a wide range of children not only for the story but also the artwork. The story has a great moral and talking points to have with children and I would thoroughly recommend this!
Picture book / Reviewed by Lauren Maidman, teacher
Suggested Reading Age 5+
Other titles