It Only Happens in the Movies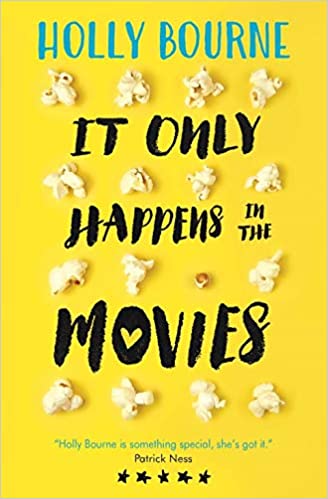 By Author / Illustrator
Holly Bourne
Genre
Romance & Relationships
Age range(s)
14+
Publisher
Usborne Publishing Ltd
ISBN
9781474921329
Format
Paperback / softback
Published
05-10-2017
Synopsis
The greatest love story ever told doesn't feature kissing in the snow or racing to airports. It features pain and confusion and hope and wonder and a ban on cheesy cliches. Oh, and zombies...YA star Holly Bourne tackles real love in this hugely funny and poignant novel.
Reviews
Linda
Yet again, It Only Happens in the Movies is another awesome book from this author. Holly Bourne just knows how to delve in teenage issues that are normally ignored and keeps the YA reader engrossed with her wonderful, emotional, funny and thought provoking writing.
This is a romance novel, but I can assure you not sloppy or lovey dovey at all... The main character in this story is Audrey, who has had it with 'love' as she has had a recent break up, and her father has moved out and is raising a new family. Having Audrey's family as one of the main aspects of the book also made this wonderful story, a slightly different read from other YA books. Family is an integral part in our everyday life so to see the effect that this had on Audrey and her life was a powerful thing to read about.
All of Holly's books draw on important issues that are often ignored and neglected in the media etc, so it was fantastic to read such a thought-provoking book which addresses the problems and unrealistic expectations that films have. This was carried out throughout the whole novel as Audrey decides to do a media project on it, and this even made me think about how subtly messages of unhealthy and controlling relationships are broadcast and romanticised in the media. This book of course had all the fun and silly aspects of a relationship too, but it was great to highlight the problems that it can also cause, how difficult, messy and just downright awful they can be. Exactly the bits we don't see in the movies!!
This book is a great reflection on all things relationship, first love, betrayal and the strength of friendship. A MUST read for all teenagers, confident readers and reluctant; though only suitable for 14+ readers due to the offensive language and sexual references. I guarantee you will enjoy all 410 pages.
410 Pages Reviewed by Linda Brown, school librarian.
Suggested Reading Age 14+
Other titles