It's a Prince Thing (The Princess Rules)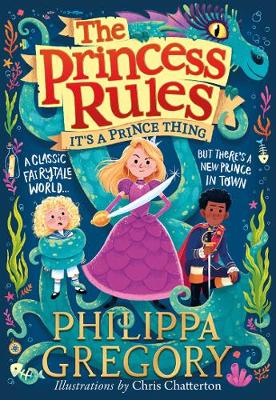 By Author / Illustrator
Philippa Gregory, Chris Chatterton
Genre
Fairy Tales & Folk Tales
Age range(s)
7+
Publisher
HarperCollins Publishers
ISBN
9780008403256
Format
Hardback
Published
01-10-2020
Synopsis
The sequel to THE PRINCESS RULES sees rebel princess, Princess Florizella, going on even more adventures, but this time, she also has a little brother in tow...
Once upon a time, there was a princess who broke all the rules, and dared to be different...

So when that same princess - Florizella - finds a baby boy delivered by stork to her parents' palace, she is shocked to discover that he will one day be king and inherit her kingdom! For every prince is given a permit which allow them to do whatever they like in the same way that every princess is given a set of rules that they have to live by.

As soon as Princess Florizella's brother is big enough to have adventures, she takes him all over the land, fighting pirates, wrestling with a sea serpent and rehoming a woolly mammoth.

Can Florizella prove that girls having rules and boys having permits isn't right? And that princes and princesses, and girls and boys, should be anything that they want to be...
Reviews
Jane
I expected to enjoy this book, and was not disappointed. The appeal in It's a Prince Thing derives from its humour and the charming illustrations by Chris Chatterton, but I also enjoyed the twists and turns in the plot which deliberately confound expectations of how storybooks princes, princesses, sea serpents and others should behave. And that's the point. The author sets out to debunk the myth - reinforced by so many of our traditional fairytales - that adventure, heroics, privilege and control should necessarily be the preserve of males.
In this series of three short stories, Princess Florizella is the one to watch, for she is determined to blaze a different trail for the fairer sex. In such a daring mission, she is humbly assisted by her best friend Prince Bennett and, surprisingly, by her little brother Prince Courier (himself something of a surprise when delivered, as a baby, to the palace). To his credit, he grows very quickly into his new role, not as heir to the kingdom, but as supporter and fellow adventurer in the campaign for a new and fairer world for everyone (including pirates and sea serpents).
If I had to choose a favourite scene, it would probably be when Florizella questions Courier's logic in dropping a trail of peppermints. 'Because they are white and shiny and showed up in the mud?', she asks. 'Nope' comes the reply, 'I don't like peppermints... I wasn't going to drop the jellies, was I?'
I will be happily recommending this, especially to teachers in Year 2 and 3 as a class read. It is certainly one to be enjoyed together. It would also provide light-hearted material for discussions around stereotypes.
256 pages / Reviewed by Jane Rew, school librarian
Suggested Reading Age 7+
Other titles