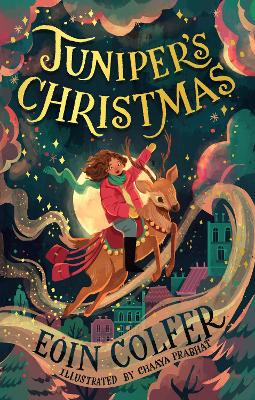 By Author / Illustrator
Eoin Colfer, Chaaya Prabhat
Genre
Adventure
Age range(s)
9+
Publisher
HarperCollins Publishers
ISBN
9780008475536
Format
Hardback
Published
26-10-2023
Synopsis
A brand-new Christmas classic adventure about the magic of Santa Claus, set in North London and the North Pole - from the bestselling author of Artemis Fowl
It all started in Christmas Past....  It's been ten years since Santa Claus performed his Christmas duties, but when Juniper Lane discovers the mysterious Niko, who lives in her local London park surrounded by Christmas trees and reindeer that can fly, she steps into a Christmas story like no other.
When Juniper's mum goes missing and the park comes under threat from an ambitious park keeper, Juniper enlists Niko, who is surely Santa Claus, to help.  As the countdown to Christmas begins, Juniper must find her mother, restore the festive spirit, bring to life the true magic of the season and learn to ride her very own reindeer.
A brand-new festive classic, Juniper's Christmas is a rip-roaring magical adventure filled with heart and humour - where one girl's love might just be strong enough to save her family and Father Christmas himself.
Find out more in our Q&A with author Eoin Colfer!
Reviews
Hayley
Eoin Colfer's new book Juniper's Christmas is a heartwarming modern twist on a story about saving Santa Claus. This story brings attention to the real people who try to help restore Christmas spirit and Christmas magic but also highlights our struggles with modern day corporate greed.
Juniper Lane is one of the main characters in this book; when her mum goes missing, she reaches out to the homeless people in Cedar Park that have been friends with her family for years for help. Duchess - who is a homeless resident - tells Juniper all about the 'Angel of Cedar Park'. This notoriously secret resident lives on the edge of the park and is called Niko. Niko is known for his kindness towards the homeless, but not many people have seen him as he likes to stay away from people, especially children.
We learn that Niko was once Santa Claus but, having dealt with a family bereavement, Niko lost his Christmas spirit and then abandoned his role to seek solace in the woods, focused on helping others who need his help the most. That is until Juniper Lane comes looking for him. Juniper is determined to find her mum and seek's Niko's help, entering his world through the fence; she does not expect to find Christmas trees and magical reindeers.
This brand-new festive classic is filled with magical adventure, heart-warming humour and characters that you can relate with, even when they are the 'villains'. Children will be entertained by Juniper's journey to save her family and Father Christmas. They will also love how this book portrays the magic of Christmas with detail and illustrations that bring everything to life.
This would be an excellent class story or teaching aid for an alternative genre form for writing in KS2.
352 pages / Reviewed by Hayley Summerfield, teacher
Suggested Reading Age 9+
Other titles