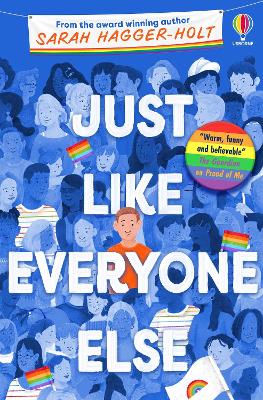 By Author / Illustrator
Sarah Hagger-Holt
Genre
LBGTQ+
Age range(s)
11+
Publisher
Usborne Publishing Ltd
ISBN
9781801315784
Format
Paperback / softback
Published
08-06-2023
Synopsis
A coming-of-age story for tweens exploring identity, family and self-acceptance, from award-winning author Sarah Hagger-Holt.

13-year-old Aidan can't breathe in his crowded family home. Running is his only respite from four loud sisters and involved, touchy-feely parents. Then his mum makes an announcement: she's having another baby. Only, this time it's not for her; she will be a surrogate for gay couple Justin and Atif.  Aidan is incensed. As if his family wasn't embarrassing - or big - enough already. But he's also scared. Aidan thinks he might be gay, and he's really struggling to accept this possibility. What if being around Justin and Atif means that he has to come out before he's ready?  If only he were just like everyone else.

Praise for Sarah Hagger-Holt:  Winner of the Little Rebels Award.  Twice-nominated for the Carnegie Medal.
"Gentle and compassionate" The Times Literary Supplement
"A fantastic book - I absolutely loved it!" L.D. Lapinski, author of The Strangeworlds Travel Agency
"Warm, funny and believable" The Guardian
Reviews
Sam
Most teenagers work hard to 'fit in', knowing that there is nothing worse than becoming an obvious target for the group of boys or girls in school who like nothing more than making your life difficult. Coming from a big family, who are well known not just to your school but also the local community, 13-year-old Aidan knows this better than most. Not only is his best friend Jack apparently unaware of the need to blend in, but now his Mum is pregnant again, although this time Aidan's Dad is not the father! Aidan's Mum has agreed to be a surrogate for a gay couple Justin and Atif.  Aidan's life is suddenly in turmoil; what is everyone at school going to think? How is he going to cope once they know that not only is his mum having another baby but that she also plans to give it away!
As a young teenage boy, Aidan is still trying to come to terms with his own emotions and sexuality and the distinct possibility that he might be gay himself. However, he is by no means ready to 'come out', and now there's the additional worry that he may expose himself to the new members of Team Rainbow.
Just Like Everyone Else by Sarah Hagger-Holt is an absolutely fabulous book. A very readable story that gently discusses issues including family, friendship and sexuality. An ideal book for any KS3 class bookshelf.
320 pages / Reviewed by Sam, school librarian
Suggested Reading Age 11+
Louisa
Aidan is thirteen and uneasy - about his crowded family, about how people at school might think of him and, most of all, uneasy about himself. He thinks that he might be gay but is struggling to admit it, let alone accept it; in fact, he is burying his secret as deep as he can, even from his closest friend. Normally, he manages his worries by running because pushing his body as far as it will go makes him 'feel better'; but when his mother announces she's having a sixth baby as a surrogate for a gay couple, Justin and Atif, Aidan's anger, embarrassment and fear threaten to overwhelm him. If only he were just like everyone else.
Ironically, one of the strengths of the book, I think, is just how ordinary and relatable Aidan is. His gift for fell running is the most unusual thing about him; he's certainly anything but a gay stereotype. This makes it a great story for challenging assumptions. It's also good for building empathy because his anxieties are, above all, triggered by casual - and not so casual - homophobic behaviour at school.
As a hopeful narrative, Just Like Everyone Else will surely be helpful for teenagers with similar concerns about their sexuality; in the end, Aidan's fiercest enemy and critic turns out to be himself. Aidan's emotions swell in line with his mother's pregnancy but ultimately, making himself vulnerable brings him relief and deepens his relationships with those who matter most to him. And finally, isn't a story the best way to be able to introduce the ethical issues around surrogacy and gay parenting?
It might be a bit long to read the whole of it in a PSHE lesson but it would be a great one to mine for extracts - and then to recommend to all those who, like me, love a good coming-of-age story.
320 pages / Reviewed by Louisa Farrow, teacher
Suggested Reading Age 11+
Other titles