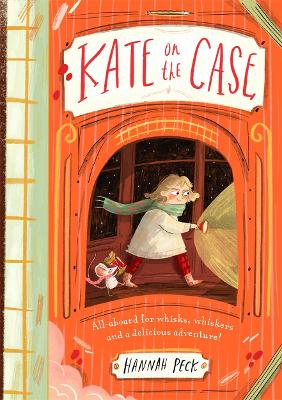 By Author / Illustrator
Hannah Peck
Genre
Mystery & Detective
Age range(s)
7+
Publisher
Templar Publishing
ISBN
9781848129702
Format
Paperback / softback
Published
08-07-2021
Synopsis
Young reporter-in-training Kate and her mouse-accomplice Rupert are on board a train, to visit Kate's mum in the Arctic. But as soon as the train departs, mysterious things start happening. A packet of ginger nuts goes missing . . .A collection of gymnastics trophies are stolen . . . And some ancient scrolls disappear . . .Fellow passenger Madame Maude seems the most likely culprit, until a surprising - and delicious - twist turns the whole investigation on its head. First in a witty two-colour chapter-book series about a bold young detective and a colourful cast of suspects, in a setting worthy of Agatha Christie.
Q&A with author and illustrator Hannah Peck
Reviews
Lisa
A book written for junior crime detectives! Kate and her accomplice Rupert the mouse, are embarking on a train journey to the Arctic. However, not long after the train departs, strange and mysterious happenings start occurring. Kate takes it upon herself to investigate all the other passengers as suspects to the strange goings on and discovers a surprising truth!
Kate on the Case is ideal for young readers who have developed competency in fluency and are ready to tackle chapter books, most likely end of KS1 children. I would recommend this book to children in my class who need some support in advancing their vocabulary. There are a number or words which would be new to children of the intended age range, that they could magpie for their own story writing. The illustrations, also by Hannah Peck (author), are charming and add to and enhance the humour of the book.
160 pages / Reviewed by Lisa Watkins, teacher
Suggested Reading Age 7+
Lauren
Kate on the Case is the brilliant story of the young reporter-in-training Kate and her trusty mouse sidekick, Rupert. Together they solve their first case to help Kate become the reporter she longs to be. Kate is on her way to see her Mum, a clever scientist and explorer on the brink of a new discovery, when some of the passengers on the train belongings go missing! Chaos ensues and everyone is accusing each other – this is a job for Kate the reporter. Kate starts to interview the passengers on the train, the twin circus act, a priest, an award winning gymnast, Simon the conductor-in-training and Madame Maude the grumpy ex-chef. With Kate's Special Correspondent Manual and her reporting skills it is up to Kate to find the missing items and save the day, all before the train reaches her Mum! 
I thoroughly enjoyed the book and can't wait to see if there is another on the way. It reminded me of Agatha Christie or Poirot for kids. I liked how the story had pages from the manual inside as well as plans of the train and reports, making it feel like you were reading Kate's case notes.
160 pages / Reviewed by Lauren Maidman, teacher 
Suggested Reading Age 7+
Lucy
Kate on the Case starts with some lovely pictures to introduce the characters, as well as pictures of different carriages in the train. I think this is a great idea to help young readers who are just starting to read chapter books as it gives them a helping hand in imagining where the story is set. The text is challenging enough for readers who are building their stamina and is broken up into bitesize chapters with plenty of pictures too.
The main character, Kate, is setting off on a train journey to see her mum - she's a scientist and is busy on an expedition in the Arctic. Kate boards the train with enough clothes to sink a ship and her pet mouse, Rupert, tucked in her pocket. Kate thinks she's in for a quiet trip with her dad but as soon as the train sets off, she realises that she's in for an exciting time!
As the story continues, Kate gets involved in all sorts of adventures as mysterious things start to happen around her and she takes it upon herself to work out what's going on. A great book which keeps the reader guessing and allows plenty of investigative thoughts!
160 pages / Reviewed by Lucy Newton, teacher
Suggested Reading Age 7+
Other titles