KEW: Grow, Forage and Make: Fun things to do with plants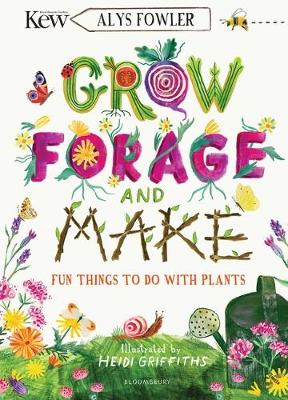 By Author / Illustrator
Alys Fowler, Heidi Griffiths
Genre
Non Fiction
Age range(s)
5+
Publisher
Bloomsbury Publishing PLC
ISBN
9781526619105
Format
Paperback / softback
Published
18-03-2021
Synopsis
With over 30 fun, easy to follow and rewarding growing projects, foraging activities, experiments and arts and crafts activities, you'll never be bored again! From growing your own air plants to foraging for edible flowers, gardener, TV presenter and forager Alys Fowler will take you through a range of indoor and outdoor activities that are sure to ignite a lifelong passion for plants! You don't need a garden or any fancy equipment - a homemade pot and watering can, seeds from the kitchen cupboard and a sunny windowsill will do.With Alys's expert guidance you can grow your own avocado tree, make wildflower seed paper, forage for tasty roots to add to your favourite recipes and even grow neon pink beetroot in the dark! Welcome to the wonderful world of plants - what will you discover?
Reviews
Joanna
Grow, Forage and Make - Fun Things to do with Plants is a fantastic non-fiction book that easily shows children how to design, create and grow using nature around them. I absolutely adore the style of this book; it feels and looks natural through its font choice, colour pallet and hand drawn images and this immediately drew me towards it; it even smells good! The title itself, all hand drawn with natural objects to spell out the title, is gorgeous.
This book does not feel like a children's book, it is a book for all ages to pick up and enjoy. The simplicity and accessibility of this book makes it fantastic for children to understand the natural world around them. The range of activities, experiments, recipes and facts are exciting and engaging, yet easy to follow so children can attempt the activities with minimal support from an adult. My children (aged 7 and 5) love picking up this book and scanning through the pages for something fun to do, grow or create. The beautifully drawn images to accompany each activity make it very straight forward to follow with the easy step by step instructions, but also each page offers interesting facts and information - such as where the plant originates or why it is named.
In a time where children are so often on screens and technology absorbs them, it is so wonderful to find Grow Forage and Make - fun things to do with plants as it is crammed with outdoor activities, encouraging children to get mucky and see the wonder of growing something. There are lots of tips on how to make things from recycled materials and that can be found in the home and lots of encouragement to reuse plastic. The narrative style for the instructions is clear and informative whilst also fun with some light humour in places. My children now have a windowsill covered in their recent activities taken from this book - growing a sweet potato, vegetables taken from offcuts from dinner, growing an avocado tree. My garden is also now full of butterfly-suited plants and a home for mini beasts in my children's excitement to try what they had read.
This book is a fantastic learning resource for a Primary setting. Outdoor learning is becoming increasingly popular on the curriculum and this book offers a wide range of learning, resources, experiments and activities to engage young children. I cannot rate this book highly enough, it is beautifully and thoughtfully created for its target audience whilst also proving engaging for adults.
96 pages / Ages 5+ / Reviewed by Joanna Hewish, teacher
Suggested Reading Age 5+
Other titles