King Flashypants and the Evil Emperor: Book 1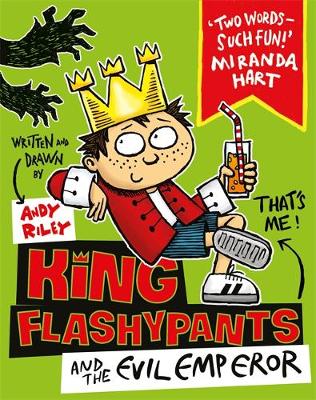 By Author / Illustrator
Andy Riley
Genre
Adventure
Age range(s)
7+
Publisher
Hachette Children's Group
ISBN
9781444929591
Format
Paperback / softback
Published
14-07-2016
Synopsis
The first in a fun new series - 'Brilliantly original and hilarious ... it's nearly as good as one of my books' David Walliams.

'One for fans of Horrid Henry and Tom Gates' The Guardian

Edwin isn't an ordinary boy. He is a king, with a throne, and his own suit of armour and a castle with secret passages and everything.

Every Friday, King Edwin spends all his money on chocolate for the peasants. But when the money runs out, Edwin finds himself in a fix. Cue the arrival of evil Emperor Nurbison, in his pointy-collared black cloak and accompanied by scary striding music. He has had his eye on Edwin's kingdom for a while and intends to use the peasants' unhappiness to his advantage!

When the emperor builds a fake dragon out of a cow, green crepe paper, furry monster novelty slippers and two birthday cake candles, to scare the peasants, Edwin knows it's time to come up with the first sneaky plan he's ever had in his life ...
Reviews
Lauren
King Edwin is the King of Edwinland and loves his people very much. So much so, that he buys them chocolate and sweets every day! King Edwin has an enemy Emperor Nurbison of Nurbisonia who doesn't particularly like King Edwin or his chocolate-loving kingdom. When Empreror Nurbison takes over it is down to King Edwin and his trusty minister, Jill, and Megan, his jester to save the day! King Edwin has to save his crown, his castle, his kingdom and his people all in one day! I found this book hysterical, not only through the writing but the brilliant illustrations from the author Andy Riley. Lots of hidden jokes and bonus bits throughout the book which make it even better! This book is great for parents and teachers alike who enjoy a bit of fun and silliness at story time. I thoroughly enjoyed it and very much looking forward to anymore in the series. Great book for year 3 and 4! 200 pages / Ages 7+ / Reviewed by Lauren Maidman, teacher.
Suggested Reading Age 7+
Other titles