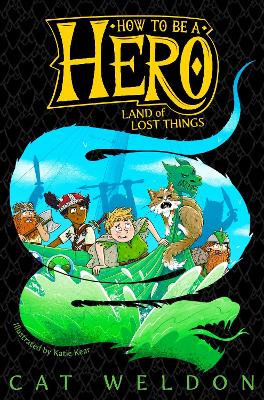 By Author / Illustrator
Cat Weldon, Katie Kear
Genre
Myths & Legends
Age range(s)
9+
Publisher
Pan Macmillan
ISBN
9781529045055
Format
Paperback / softback
Published
08-07-2021
Synopsis
Take up the quest in the hilariously epic second installment of the How to be a Hero series, from Cat Weldon, illustrated by Katie Kear.

Welcome to the Land of Lost Things. Unlikely hero Whetstone and trainee Valkyrie Lotta are on an quest to find Whetstone's long-lost father. But when Loki the trickster God sends his monstrous children after them, and Lotta loses her magic shield and along with it, her powers, things go from bad to worse.  Can Lotta and Whetstone survive a sea-serpent attack, a gigantic wolf who likes his tummy tickled and a very lonely queen of the dead, to keep the quest on track?

The second in this funny, fast-paced series about how to be a friend, what it means to be a hero and just how confusing the Norse Gods really are.
Reviews
Donna
I absolutely couldn't wait for Land of Lost Things - the second in the series - having loved the exploits of Whetstone and Lotta in the previous book. Expectations of more exciting adventures into the nine worlds were high. In this book, we meet some of Loki's children - Hel, Jormungandr and Fenrir.
Lotta 'wins' a poetry contest in order to help Whetstone on his next quest. Whetstone needs to find his father and the harp string. Lotta needs to get her powers back - by the means of finding her missing shield. The story takes us to Helheim where they ae met at the bridge by Hod - the only living person in Helheim. Hod is a terrible joke teller but has a hidden secret. Whetstone and Lotta also encounter Helhest (Hel's servant). A dark, sticky shape changer that feeds on Viking spirits.
Our hero and trainee Valkyrie, Lotta, has many obstacles to overcome in order to travel through the worlds and survive a serious of dangerous tests set by Hel. Will Whetstone find his father and the magic harp string? Will Lotta find her stolen shield and get her powers back? Will Loki return? What has happened to Odin?
Cat Weldon has provided another 5 star book which many children will love to read; especially if they are learning about or have an interest in Vikings. I can't wait for the third book in this humorous series.
246 pages / Reviewed by Donna Ritchie, teacher
Suggested Reading Age 7+
Other titles