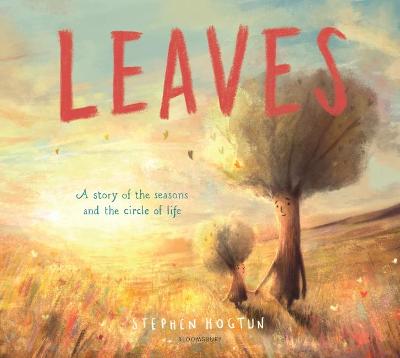 By Author / Illustrator
Stephen Hogtun
Genre
Bereavement
Age range(s)
5+
Publisher
Bloomsbury Publishing PLC
ISBN
9781526606877
Format
Hardback
Published
02-09-2021
Synopsis
A beautiful picture book about intergenerational relationships and the memories we hold dear.  "I will always be with you. Each time the wind blows, in your leaves is where you'll find me..."
When a wise old tree takes a tiny sapling into his care, they both learn what it means to make memories and put down roots. He keeps her sheltered from storms and shaded from the scorching sun, and supported by his love, she grows and grows. There are so many things to see and to learn: how to appreciate the beauty of the world; how to be strong against the wind, but flexible enough to bend. Together, they make memories they'll hold on to forever.  But when the old tree's leaves begin to fall, it's time for the sapling to grow up and take her own place in the world - and to learn how to hold on to the memories that mean so much.
Filled with beautiful, luminous artwork, this beautiful picture book is a story for everyone - both young and old.
Reviews
Lizi
Leaves is a genuinely beautiful book about seasons and the circle of life. The old tree teaches his long sapling everything she needs to know; how to survive, how to thrive and how to grow. He teaches her to enjoy and view the world, how to encounter the the wind and together they make beautiful memories together. Then comes the day where the tree has no more leaves and the sapling must grow and take her own place in the world.
It's a beautiful book, poetically written, the prose flows and is illustrated perfectly by the accompanying pictures. It's a moving books for adults, and one with a real message for youngsters. It's a beautiful book to gift, particularly to children who may be struggling with grief, but also as a lovely new baby book, too.
I'd use this in the classroom with pupils of all ages, to discuss growing and changing, death and grief. It's sensitively written and a real treasure to have on your book shelf.
Picture book / Reviewed by Lizi Coombs, teacher
Suggested Reading Age 5+
Other titles