Let's Play, Daddy Bear! A Bloomsbury Young Reader: Purple Book Band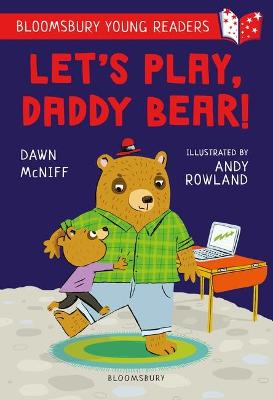 By Author / Illustrator
Dawn McNiff, Andy Rowland
Genre
Early Readers & Young Fiction
Age range(s)
5+
Publisher
Bloomsbury Publishing PLC
ISBN
9781472988904
Format
Paperback / softback
Published
08-07-2021
Synopsis
A heart-warming family story, ideal for children practicing their reading at home or in school. Little Bear lives with Daddy Bear at weekends, and usually they play games like Monster Chase and Dad-is-a-Big-Climbing-Frame. But today, all Daddy Bear is doing is tap-tap-tapping on his keyboard. Waiting is so boring! Can Little Bear convince him to play? This charming story from Dawn McNiff is perfect for Key Stage 1 (KS1) children who are learning to read by themselves. It features illustrations from Andy Rowland and explores a topic many young children will relate to. Bloomsbury Young Readers are the perfect way to get children reading, with book-banded stories by brilliant authors like Julia Donaldson. With gorgeous colour illustrations and inside cover notes to help children get the most out of stories, this series is ideal for home and school. Guided reading notes written by the Centre for Literacy in Primary Education (CLPE) are available at bloomsburyguidedreading.com. 'Every child needs a Bloomsbury Young Reader.' (Julie-Ann McCulloch, Teacher) Book Band: Purple. Ideal for ages 6+.
Reviews
Lizi
Part of the 'Bloomsbury Young Readers' story, Let's Play, Daddy Bear! is a beginners chapter book that early readers will enjoy. Little Bear lives with Daddy Bear on the weekends - a little detail that I enjoyed seeing in an early readers book as this will be normal for so many children and that's important to see reflected in literature.
After playing with Daddy Bear, he has to work and Little Bear grows increasingly frustrated with this. Eventually, Daddy Bear takes Little Bear out and they have a fun time that was definitely worth the wait. A little life lesson that I'm sure many home-schooling parents from the last year will appreciate their children learning!
The sentences are well constructed but easy to follow; it includes a range of punctuation and more interesting adjectives. Inside the cover are ideas to help adults support children developing their reading skills, linked specifically to the book. The illustrations, by Andy Rowland, are fun and engaging.
32 pages / Reviewed by Lizi Backhouse, teacher
Suggested Reading Age 5+
Other titles