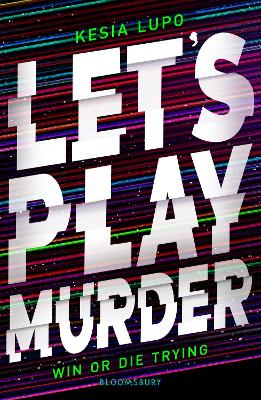 By Author / Illustrator
Kesia Lupo
Genre
Suspense & Thrillers
Age range(s)
11+
Publisher
Bloomsbury Publishing PLC
ISBN
9781526635464
Format
Paperback / softback
Published
13-04-2023
Synopsis
Kesia Lupo introduces Let's Play Murder
Squid Game meets Agatha Christie in this locked-room virtual reality murder mystery, where the only option is to win - or die trying...Video games have never been more murderous.
Veronica wakes up trapped with four strangers in a sprawling manor house in a snow storm with a dead body, a mystery right out of an Agatha Christie novel. It feels so real - but it isn't. This is VR and this is THE Game; a rumoured Easter Egg hidden in other VR games that draws you into a competition for a prize beyond your wildest dreams. And there's no escaping the VR world until the Game is won.
But while Veronica and her fellow players are trying to figure out the puzzle, something is not right in the VR world. Blackouts, glitches, NPCs acting strangely, and a mysterious figure haunting their footsteps. Then when a player dies, and also dies in real life, all hell breaks loose. Without warning, the game Veronica thought she was playing gets overshadowed by a much darker, and much more real, mystery: who is killing us?  It may not be a game Veronica wanted to play, but it's one that she has to win - or die trying.
Reviews
Emelia

- Age 14
Let's Play Murder has to be the first book in a while to have an ending I didn't expect. Well written and exciting, I could easily get back into the book after I had to put it down. The language used by the author is perfect for creating the imagery of the story.
The story follows its characters through a murder mystery game in the world of Virtual Reality (VR). The main character Veronica and her brother Max, who is unwell, begin to play a VR game when Veronica finds a strange door in the middle of the world that doesn't belong. She walks through the door and finds herself inside 'THE GAME'. Veronica is found by another player who seems to have much more experience and understanding of the VR world than her. However, this doesn't stop her from doing everything she can to solve the mystery of 'Who done it?' and win the prize at the end.
The characters move through the three levels of the game and have to interact with the NPC's (non player characters) to find out the story and piece together the clues to find who the murderer is. As the teenagers move through the game things don't seem to be unravelling as they should or expect it to, even with the support of Angel, a guide in the game things seem to be unravelling. Will they manage to escape the game with their lives? What secrets will be uncovered? Who isn't who they say they are?
352 pages / Reviewed by Emelia, school librarian
Suggested Reading Age 11+
Clair
Let's Play Murder is a compelling read. It opens with a rumour of a high stakes, hidden game in the VR world. A door that might appear, one that doesn't quite fit. If it's THE game, you'll know it by the snow...
We meet the main character, Veronica, in hospital where it becomes clear that her brother Max is seriously ill and requires expensive medical treatment in order to save his life. Max asks her to play a VR game with him on some old headsets that are in the hospital and Veronica gets sucked into a murder mystery game that she is unable to escape from until it is played out to the end. There is a life-changing sum of money on offer, which Veronica would desperately love to win in order to help her younger brother. However, she is trapped in the game with four other players, each of whom has their own agenda.
I found this to be a really immersive read because the tension builds as they move through the levels of the game. There are glitches, black outs and creepy characters. Veronica isn't sure who she can trust. Then it becomes clear that if you die in virtual reality, you also die in real life. This has become more of a game of survival and the stakes are high.
Let's Play Murder is a fast paced read. There are lots of twists and turns that lead to an ending that I really was not expecting. A thrilling read with elements of horror. A perfect blend of everything that most teenagers are looking for in a book.
352 pages / Reviewed by Clair, school librarian
Suggested Reading Age 14+
Other titles