Letters from the Lighthouse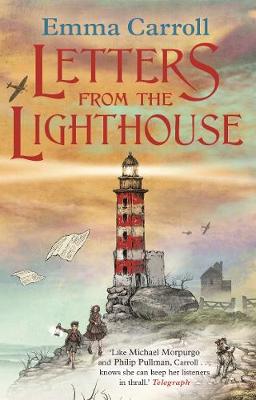 By Author / Illustrator
Emma Carroll
Genre
Historical Fiction
Age range(s)
9+
Publisher
Faber & Faber
ISBN
9780571327584
Format
Paperback / softback
Published
01-06-2017
Synopsis
'We weren't supposed to be going to the pictures that night. We weren't even meant to be outside, not in a blackout, and definitely not when German bombs had been falling on London all month like pennies from a jar.' February, 1941.
After months of bombing raids in London, 12-year-old Olive Bradshaw and her little brother Cliff are evacuated to the Devon coast. The only person with two spare beds is Mr Ephraim, the local lighthouse keeper. But he's not used to company and he certainly doesn't want any evacuees. Desperate to be helpful, Olive becomes his post-girl, carrying secret messages (as she likes to think of the letters) to the villagers. But Olive has a secret of her own. Her older sister Sukie went missing in an air raid, and she's desperate to discover what happened to her. And then she finds a strange coded note which seems to link Sukie to Devon, and to something dark and impossibly dangerous.
Reviews
Louisa
The night Sukie went missing, she was wearing her mother's coat. Somehow her sister, Olive, still has the coat but she can't remember a great deal else about what happened. After all, she and Sukie were both caught up in a bomb blast and she's lucky still to be alive.
The danger has finally convinced her mother that she and her brother need to be evacuated. Olive and Cliff soon find themselves by the seaside in Devon, in a picturesque village complete with a lighthouse. But life there is more complicated than it looks; there are secrets everywhere now there's a war on. Soon Olive is embroiled in a mystery, determined to decipher a perplexing coded note and to discover what exactly happened to Sukie (not to mention what the young lighthouse keeper is up to).
Letters from the Lighthouse is an absorbingly readable adventure story set against the background of World War II and featuring an appealingly gutsy heroine. The narrative trips along at a good pace, interwoven with convincing historical detail and winding up to a neat conclusion that ties all the missing ends together. It's quite traditional in feel, so ideal for young readers looking to move on from Michael Morpurgo or even The Famous Five books. It's strong enough for a class read with Year 5 or 6 - especially if you are looking for a novel to tie in with a topic on wartime Britain. Themes of loss, separation and reunion underpin the whole book while subplots deal with suspicion of outsiders, so there is plenty of content for discussion.
My copy is certainly well-thumbed. Not only did I love it but it's become a go-to recommendation for girls in Years 4 to 6 who enjoy real life adventure and mystery stories. I wouldn't be without it on my lending shelf.
288 pages / Reviewed by Louisa Farrow, teacher
Suggested Reading Age 9+
Other titles