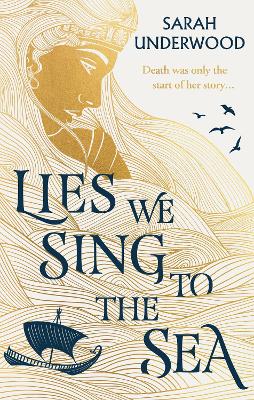 By Author / Illustrator
Sarah Underwood
Genre
Myths & Legends
Age range(s)
14+
Publisher
HarperCollins Publishers
ISBN
9780008558536
Format
Hardback
Published
16-03-2023
Synopsis
A fantasy romance, by dazzling new talent Sarah Underwood, inspired by Greek mythology and the tale of Penelope's twelve hanged maids.
In the cursed kingdom of Ithaca, each spring brings the hanging of twelve maidens, a gift to the vengeful Poseidon. But when Leto awakens from her death on the shore of a long-forgotten island, its enigmatic keeper Melantho tells her that there's only one way the curse can be broken. Leto must kill the last prince of Ithaca . . .
In Lies We Sing to the Sea, debut author Sarah Underwood delivers a thrilling and breathtaking tale that will enthral readers from the very first page as they are transported to the cursed shores of Ithaca.  A reclamation of a story from thousands of years ago, Lies We Sing to the Sea is about love and fate, grief and sacrifice, and, ultimately, the power we must find within.
'Gorgeous, tragic, and timeless, Underwood's LIES WE SING TO THE SEA makes an age-old story feel new again. This is Greek tragedy at its best: sweeping in scope yet deeply intimate in characterization. This book will break your heart.' - Grace Li Sunday Times bestselling author of Portrait of a Thief.  'A lovely, lyrical fantasy which takes the fate of the hanged maids of the Odyssey and weaves something brand new. A story overflowing with emotion and full of magic.'
Jennifer Saint, bestselling author of Ariadne and Elektra
Reviews
Eileen
Reimaginings of the Greek myths are currently enjoying an explosion in popularity, fuelled in part by Booktok. This debut novel, Lies We Sing to the Sea, is a dazzling example, inspired by, but not a retelling of, the fate of Penelope's hanged maids from Homer's The Odyssey.
Underwood chooses as her focus Melantho, the only maid hanged by Odysseus, to be given a name. In this inventive and immersive story, Melantho lives again as the enigmatic keeper of the island of Pandou, charged with burying the bodies washed ashore of the 12 girls sacrificed each year in the cursed kingdom of Ithaca to pacify Poseidon, the vengeful god of the sea. One of the girls, Leto, wakes from death only to discover from Melantho that she has been chosen by the gods to break the curse. To do this, Leto must return home and kill Prince Mathias, the current ruler of Ithaca.
As Melantho guides Leto towards her destiny, an intense love develops between them. On returning to Ithaca however, Leto finds herself strangely drawn towards Mathias, not a power-crazed ruler but a lonely and vulnerable teenager, desperate to destroy Poseidon's curse. This does not sit well with Melantho. Skilful narration allows each of these three main characters to become the focus of alternating chapters which allows the reader to more closely understand their actions and motivations and to be drawn more deeply into their story.
The characters are presented with difficult, often painful choices which creates the epic drama and the shocking conclusion, cleverly bringing the worlds of gods and humans together. In putting a contemporary spin on a classic story and choosing to focus on often overlooked female characters, Underwood is able to tackle huge and timeless themes of abuse, power, fate, female anger and agency, slavery, sacrifice, love and, importantly, toxic masculinity.
This is a powerful and personal story of being abused and reacting to it, of breaking a curse and exacting revenge. It's a story of inner strength, survival and reassurance which feels bang up to date. The complex plotting, huge time shifts and engaging characters make for a completely compelling and rewarding read, as much tragedy as sapphic romantasy. The writing is stylish, visual and vividly detailed; it's easy to see why movie rights were snapped up even before the book's publication. Even the packaging of this story is something special - the design completely capturing the mood and setting of the story and superbly enhanced by lavish gold-embossing.
Fans of immersive fantasy and keen readers looking for something a little bit different will devour Lies We Sing to the Sea and be back for more - and rightly so; Underwood is definitely a writer to keep on your book-buying radar.
Other standout YA titles which will help meet demand for reimagined myths include Carnegie-shortlisted Medusa by Jessie Burton, Lore by Alexandra Bracken and Daughter of Darkness by Katharine and Elizabeth Corr. David Almond's lyrical A Song for Ella Grey is also inspired by Greek myth. Those looking for dark fantasy romances filled with curses and secrets will be enthralled by Kat Dunn's Bitterthorn. Reimaginings of Greek myths for older readers include Circe/The Song of Achilles by Madeline Miller, Elektra and Ariadne by Jennifer Saint and Ithaca by Claire North. For retellings of the myths, Stephen Fry's The Greek Myths Retold series will definitely not disappoint.
496 pages / Reviewed by Eileen Armstrong, school librarian
Suggested Reading Age 14+
Other titles