Lift-the-Flap First Questions and Answers What is a Virus?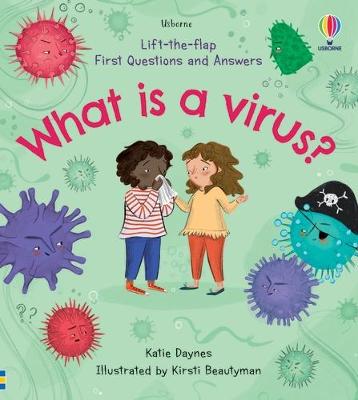 By Author / Illustrator
Katie Daynes, Katie Daynes, Kirsti Beautyman (Illustrator)
Genre
Non Fiction
Age range(s)
5+
Publisher
Usborne Publishing Ltd
ISBN
9781474991513
Format
Board book
Published
04-03-2021
Synopsis
Our lives have been taken over by a tiny virus we can't even see. But what IS a virus? How do viruses spread? Why should everyone keep washing their hands? How does a vaccine work? And what can we do to STAY WELL? Lift the flaps to find out.
Reviews
Catherine
This book is extremely topical at present as all children have questions and concerns about the Coronovirus. This book covers everything you need to know about viruses in a non- frightening and reassuring way. What is a Virus is full of simple questions which are answered by lifting the flap. This makes it really fun and simple to read. The pictures are colourful and friendly and will appeal to all ages.
Sometimes children ask questions about difficult subjects and as teachers, parents or carers we are often unsure how to answer their questions in a simple way, but also without worrying them. This book does all this for you. I learnt a lot of new things about viruses myself reading this book. It has lots of fun facts to amuse everybody such as - did you know that 500 million viruses could fit on the head of a pin? Also, a sneeze can travel faster than a speeding car!
Another good thing about this book is that is gives practical advice about what to do if you catch a virus such as the common cold and also illustrates how to wash your hands correctly. Towards the end of the book it talks about a wide range of viruses including Covid, Flu, and AIDS.
This book would be great to use in the classroom during science lessons but I think it is one that we all need to read at the moment whether we covering viruses in our curriculum or not.
Board Book / 12 pages / Reviewed by Catherine Kus, teacher
Suggested Reading Age 5+
Other titles