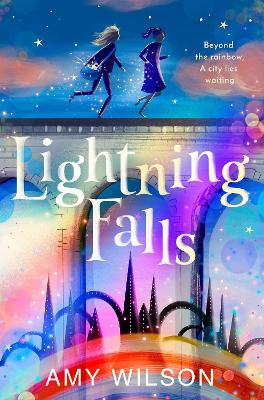 By Author / Illustrator
Amy Wilson
Genre
Fantasy
Age range(s)
9+
Publisher
Pan Macmillan
ISBN
9781529037876
Format
Paperback / softback
Published
19-08-2021
Synopsis
'Truly the most magical story ... iridescent and lyrical and heartwarming' - Hilary McKay

'A glitteringly magical adventure' - Sophie Anderson

Lighting Falls is a fantastical story of ghosts and friendship from Amy Wilson, 'the rising star of children's fantasy'.

Valerie has been living at Lightning Falls nearly all her life. She's perfectly happy helping Meg and the rest of the family to haunt the guests who come to stay there at the crumbling Ghost House. One night, she sees a strange boy, Joe, up on the viaduct. There she discovers that beneath the river is a bridge - one that will take her to the world of Orbis, which Joe claims is her real home.

A world that is under threat. Plunged into a dangerous adventure, as the link between the two worlds begins to crumble, Valerie is forced to confront the truth about herself . . .
Reviews
Donna
If you enjoy humorous ghost stories with a twist, then Lightning Falls is for you. It follows Valerie, a hallowed ghost, who is trying to find out where she came from and who her real family are. She was found, abandoned, as a toddler by Lord Rory, owner of the haunted guest house, aptly named The Ghost House. Filled with many ghosts, with varying characteristics, who haunt the guests who visit the place, hoping to see real ghosts. Valerie, being a hallowed ghost, can do things that both a ghost and a human can do disappear, eat and drink etc. She enjoys causing havoc with her ghost sister, Meg. They are the best of friends, but Meg stays the same whereas Valerie ages.
It is almost her 13th birthday and star storms keep appearing in the sky, causing guests to lose full sight. Nobody knows why it is happening or where they come from. Why are they becoming more frequent as Valerie's birthday is approaching? And why is Lord Rory becoming distant? Why can't they get through the door to his room anymore? Who is Joe, the mysterious boy on the viaduct? Why does he keep telling her that Orbis is her 'real' home and is under threat? Amy Wilson's description of Orbis is totally enchanting. Who wouldn't want to visit if not live there?
Lightning Falls is a story full of mystery and magic, with messages of family and belonging. Another excellent read from the author of A girl called Owl and Snowglobe to name but two of her outstanding books.
256 pages / Reviewed by Donna Ritchie, Teacher
Suggested Reading Age 9+
Other titles