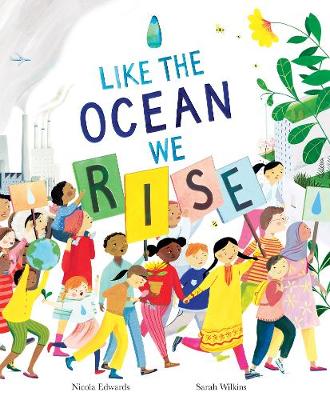 By Author / Illustrator
Sarah Wilkins, Nicola Edwards
Genre
Environment
Age range(s)
5+
Publisher
Little Tiger Press Group
ISBN
9781838911744
Format
Paperback / softback
Published
01-04-2021
Synopsis
Our planet is vast and it's beautiful too,
but it needs our help - it needs me, it needs you.

This timely peek-through picture book explores humans' impact on our Earth and how we can all make a difference.  Celebrate the international youth movement making waves to save our beautiful planet.
Reviews
Kyle
Like the Ocean we Rise is a beautiful text with a clear and hard hitting message about our world. Nicola Edwards has done a remarkable job in conveying the importance of taking a stand and implementing change in our world through her poetic writing style.

In the current climate, ensuring a better world for our children (and their children) is incredibly important and Nicola has carefully selected her words to ensure that even children as young as three or four can engage with the agenda of the book.  The book starts 'Our planet is vast and it's beautiful too, its forests are green and its oceans are blue. Do we see that magic and treat it with care? Do we take it for granted the world that we share?'  Instantly there are opportunities for discussion as those questions make you stop and think from your own perspective. I can certainly see myself using the open double page spread as a stimulus for a PHSE session in school (across the whole primary age range).
The rest of the text flows effortlessly , with the rhyming couplets controlling the pace of the read as well as the superb text layout ensuring engagement from one page to another.  As a text regarding the world, it also supplies us with opportunities to travel around the world to discover the problems being encountered. From the melting ice caps in the Arctic to the deforestation of the rain forests, readers will soon understand the vastness of our beautiful planet.
The clear message of the book is that anyone, no matter how small, can implement change and can work towards providing a better tomorrow for future generations...this is wonderfully summed up by Nicola's final sentence: 'Though we might be small in a world that is wide, together we swell until we turn the tide.'

A special mention also needs to be made to Sarah Wilkins. Her illustrations are beautiful and perfectly accompany the message and text.  Overall, this text is a must for any primary school library and could support many engaging topics. I will be recommending to my colleagues and sharing with them,.

Picture book / Ages 4+ / Reviewed by Kyle Matravers, teacher
Suggested Reading Age 5+
Other titles