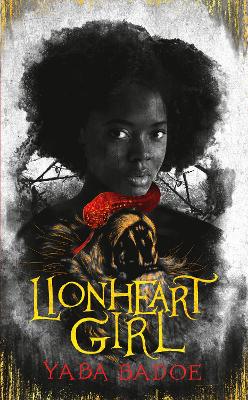 By Author / Illustrator
Yaba Badoe
Genre
Myths & Legends
Age range(s)
14+
Publisher
Head of Zeus
ISBN
9781789540857
Format
Hardback
Published
14-10-2021
Synopsis
African myth and magic beat in the dark heart of this fable about witchcraft, superstition, the bonds we choose and those we cannot.  
Born into a family of West African witches, Sheba's terrified of her mother who is deadly dangerous. But like mother, like daughter - magic runs through her blood and Sheba discovers powers of her own.  Her touch can unravel people's innermost thoughts; their hopes, their fears - their secrets. Sheba, too, can shape-shift. Through the communion of ancient magic, blood and friendship, she slowly uncovers the murderous truth about her stolen childhood and steels herself for the future. She must protect the hunted from the hunter - her mother.
'Lionheart Girl is deeply atmospheric, stunningly original, and sizzling with ancient myth and magic. Utterly unmissable' Sophie Anderson, author of The Castle of Tangled Magic.  'Loved it! Yaba's best so far - a wonderful tale of magic and family' Catherine Johnson, author of Queen of Freedom: Defending Jamaica
Reviews
Clare
Born into a family of West African witches, Sheba has long known of her family's magical powers and the consequent distrust of the other villagers. Living in fear of her shapeshifting and capricious mother, Sheba seeks solace with her grandmothers and a kindly aunt. When she meets the enigmatic and similarly magically blessed boy, Maybe, Sheba begins to distance herself from her mother and the terrifying fate she has ordained for her; eager for her new friend to help her in her search for her father.  Although her mother provides scant information about her parentage, Sheba and Maybe follow the tantalising clues and soon find themselves delving into dangerous magic.
Lionheart Girl is a tale of mysticism, magic and ancestry. A family bound by its powerful and dangerous heritage. But it also a coming-of-age story, as Sheba learns to confront her abilities and emotions. Deeply evocative, this manages to be both a page-turner and a folk tale - a character-driven book that gives the reader a sense of another place and culture. A vivid, lyrical and unique book.
320 pages / Ages 12+ / Reviewed by Clare Wilkins, school librarian
Suggested Reading Age 14+
Other titles