Loki: A Bad God's Guide to Being Good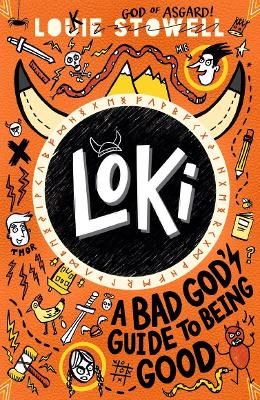 By Author / Illustrator
Louie Stowell
Genre
Funny Stories
Age range(s)
7+
Publisher
Walker Books Ltd
ISBN
9781406399752
Format
Paperback / softback
Published
03-02-2022
Synopsis
Wry, witty and very funny diary-style story packed with doodles and comic strips about the frustration trickster god Loki feels at having to live trapped in the body of a weedy eleven-year-old boy.

After one trick too many, Loki is banished to live on Earth as a "normal" school boy. Forbidden from using his AWESOME godly powers, Loki must show moral improvement. As he records his lies *THE TRUTH* in his magical (judgemental) diary, it becomes clear Loki hasn't a clue how to tell good from evil, trust from tricks, or friends from enemies.
Find out more in this Q&A and Video with author Louie Stowell
Reviews
Linda
Loki: A Bad God's Guide to Being Good is the genius first book in a new series by Louie Stowell. Written in the style of a diary and filled with doodles and random asides, this book is sure to be a massive hit with fans of the Wimpy Kid or Tom Gates series.
I absolutely loved that it was steeped in Norse mythology and feel that Stowell has created something truly unique within its pages. Loki is a great character and Stowell has captured his voice perfectly. It's a truly funny, accessible read, and would be a great book to engage reluctant readers due to its layout and engaging narrative style.
It's also a fantastic book for any classes learning about the Vikings as it offers lots of detail related to Norse gods and the afterlife. I will most certainly be adding this to my classroom bookshelf and cannot wait to recommend it to my pupils. I very much look forward to reading the second book when it is launched.
236 pages / Reviewed by Linda Canning, teacher
Suggested Reading Age 7+
Donna
In Loki: A Bad God's Guide to Being Good, Loki has been given an ultimatum by Odin: you have one month to show that you can be good or face a lifetime of torture. Unfortunately for Loki, his test will take place on Earth. Changed into the body of an 11-year-old boy, Loki must learn the ways of a mortal, take part in school and try his best to make good choices. Every day he documents his challenges and decisions and every day he has an opportunity to win or lose virtual points.
The problem with being the god of mischief and chaos, is that you are hard-wired to create mischief and chaos. Will Loki be able to overcome his true nature to win his freedom? Or will the lure of creating havoc follow him into his new venture?
Louie Stowell has created a hilariously funny diary-style story about the adventures of Loki. The book is packed with super comic book style images as well as many inferences to Norse mythology. A truly energetic romp through the life and challenges faced by an 11-year-old boy that are elevated to epic hilarity when the challenges of being a god are added.
Curriculum links: kindness, overcoming challenge, friendship, family
236 pages / Reviewed by Donna Burkert, teacher
Suggested Reading Age 7+
Hayley
Loki: A Bad God's Guide To Being Good is the amazing new book by Louie Stowell. This hilariously funny diary-style story allows us to learn about Norse mythology and the trickster god Loki, after he is banished to Earth. The book is written from the perspective of Loki, who has been banished to Earth in the form of an eleven-year-old boy. The diary entries are accompanied by doodles and illustrations that add immensely to the humour of the story.
Loki has carried out one too many tricks in Asgard, so Odin has banished him to Earth in the form of a mere mortal in order for him too show moral improvement as measured by virtual points. He has been sent to Earth with Thor, Heimdall and Hyrrokkin whom together are to form a 'fake family', however, Heimdall is known to hate Loki and Hyrrokkin neither hates nor likes him, which could prove to be a sticky situation for Loki.
Earth has changed since Loki last visited 1000yrs ago, it takes him time to understand the ways and routines of a mortal. Odin has set Loki a challenge that he must complete within 31 days. If he does not complete this challenge, he will be condemned to a life surrounded by snakes dripping with venom. Loki has been summoned by Odin to write daily in his magical diary, so that Odin can see exactly what is happening on Earth and acknowledge the virtual points he attains for good deeds.
Life has somewhat changed for the trickster; his every move is now being documented because he needs to prove that he can change. Loki must attend school, carry out mundane chores, put up with Thor and learn to be a good person. It almost seems impossible!
This book is brilliantly witty and full of funny scenarios and the doodles and illustrations really add to the humour. I would recommend this book to children in key stage 2. It would accompany the curriculum topic of Raiders and Settlers / Vikings as an excellent class story. Children would gain a lot of pleasure from reading this story because it is funny and full historical references.
236 pages / Reviewed by Hayley Summerfield, teacher
Suggested Reading Age 7+
Other titles