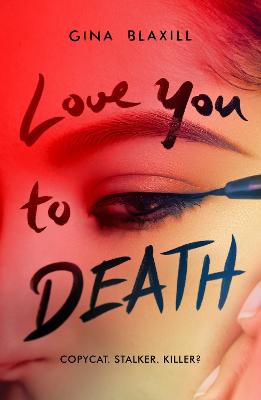 By Author / Illustrator
Gina Blaxill
Genre
Suspense & Thrillers
Age range(s)
16+
Publisher
Scholastic
ISBN
9780702325434
Format
Paperback / softback
Published
13-04-2023
Synopsis
A dark, twisty YA thriller exploring obsession, stalking and toxic love that keeps you guessing to the very end . . . Someone is obsessed with Mia Hawkins. She's felt their gaze on the back of her neck. She's heard their footsteps, walking home in the dark. She's glimpsed a shadowy figure and the flash of a camera. Mia doesn't know Jade. But Jade knows everything about Mia. In fact, she's turned herself into Mia's doppelganger, from her long brown hair to the minute details of her outfits. She's so convincing that when Jade's body is found by the cliffs, everyone believes it's Mia. But Mia can't work out why anyone would imitate her - or why they'd end up dead. As life as she knows it is decimated, she is left with no idea who to trust . . . or if she will be the next one to die.
A heart-racing YA thriller with hints of You, Single White Female and Hitchock's Vertigo. Perfect for fans of Holly Jackson, Karen M. McManus, Cynthia Murphy and Kathleen Glasgow. Told with Gina Blaxill's trademark smart, feminist angle and a deftly crafted web of vivid characters
"A brilliant, page-turning thriller that explores toxic love and obsession. I couldn't put it down." - Ravena Guron, author of This Book Kills.  "I absolutely loved it. It's so compelling and twisty and turned all my expectations upside down." - Andreina Cordani, author of Dead Lucky.
Praise for You Can Trust Me: "Gina Blaxill weaves together a dark and engrossing tale that will grip readers from start to finish." Ann Sei Lin, author of Rebel Skies. "Brilliantly twisty and intense!" Kat Ellis, author of Wicked Little Deeds. "It asks us to look at ourselves. You won't be able to put it down until the tense final pages let you go." Bryony Pearce, author of Little Rumours.
Reviews
Sue
Someone is obsessed with Mia Hawkins… I normally offer a summary of the book before a review, but this is one that I am not going to do that for in case I spoil the plot for anyone who has not read it! Having finished this a while ago, I have been waiting to review it until reading all of Gina Blaxill's books - and I can confirm that they are all excellent!
Love You to Death is a gripping, unsettling read about obsession and stalking. As the story progresses, the tension is palpable, compelling the reader to keep turning the pages as the claustrophobic feeling of threat surrounding Mia mounts. Having her own style and wearing clothes she is comfortable in should be Mia's right- as it should be for everyone - yet the story highlights how some people - mainly men - seem to feel entitled to comment, or worse, on a woman's appearance.
The story is thought-provoking (and anger-provoking!) in places as Mia (and others) wonder whether she has done something to attract the unwanted attention of her stalker; if she is in some way to blame for being too friendly, for sending the wrong message… My blood was boiling in places and there are many red flags in the story about controlling behaviour and 'toxic' relationships.
The story also offers the mystery of who Mia's stalker actually is. Red herrings abound as suspects appear to be the guilty party yet when the final reveal came, I had only just cottoned on. Once everything is solved, Gina Blaxill does a good of showing the aftermath of such an experience, not offering a neat, tidy solution where everyone goes back to normal, unaffected. Now I have caught up, I can't wait to see what Gina Blaxill writes next!
Reviewed by Sue Wilsher, ages 16+
Suggested Reading Age 14+
Other titles