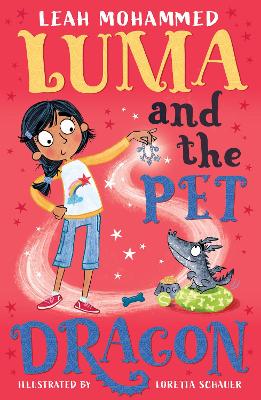 By Author / Illustrator
Leah Mohammed, illus Loretta Schauer
Genre
Early Readers & Young Fiction
Age range(s)
5+
Publisher
Welbeck Publishing Group
ISBN
9781801300025
Format
Paperback / softback
Published
03-02-2022
Synopsis
Two warm and funny stories about Luma and her cheeky pet dragon - for readers aged 5+.
When Luma Dewan wakes up on the morning of her seventh birthday, she knows that today will be special. But she has no idea just how wonderful and extraordinary it will be.  For today is the day she will meet Timir - a real talking dragon. Or at least when Luma is around that's what he is. When anyone else is there, he becomes an ordinary grey puppy with a fluffy tail, who loves chasing squirrels and bouncing on trampolines.  It's a big secret to keep - and Luma's clever cousin Arjun is soon suspicious of this peculiar puppy, who doesn't quite behave like any other dog. Luckily Luma's grandmother - Nani - is there to help, and to Luma's surprise, Nani might just know a little dragon magic of her own . . .
Find out more in this Video and Q&A from author Leah Mohammed
Reviews
Elen
I really enjoyed this story. Aimed at young children aged 6+, Luma and the Pet Dragon follows what happens when Luma - who had been hoping for a dog for her seventh birthday - instead discovers a young dragon in her garden!  Only Luma and her Nani know Timir is a dragon; to everyone else, Timir looks like a dog. But now that she needs to care for it, Luma discovers how much work a young pet - and especially a pet dragon - can be. 
This is a wonderful story for young children - who doesn't love the idea of a pet dragon?! - and the hapless dragon Timir soon wins our hearts through its antics, supported by the lovely drawings by Loretta Schauer.  The story also develops the strong relationship between Luma and her mum, and Luma's Nani, giving a positive depiction of this non-traditional family, as well as supporting a diverse cast of characters.
I can't wait to see what Timir, and Luma, get up to next and I will be recommending Luma and the Pet Dragon to several young readers I know.
192 pages / Reviewed by Elen Green
Suggested Reading Age 5+
Lucy
Luma and the Pet Dragon is a nice chapter book for young readers. Every child is excited for their 7th birthday! Luma is no different, however when she meets Timir (her talking dragon), it soon becomes obvious that it might be her best birthday yet! As the story continues, Luma tries to hide his true identity by pretending that he is a pet dog. Eventually, her grandma reveals her dragon taming skills and lends a hand with her new pet...
This book has 15 chapters which are broken up well by interesting illustrations. The front cover is colourful and appealing with the main characters depicted nicely. I think young children will enjoy the adventures that Luma gets up to with her new pet - which child doesn't enjoy an adventure story involving a talking dragon?! The author has made a conscious effort to include a range of diverse characters in the story which is always very beneficial for young readers from different cultural backgrounds.
192 pages / Reviewed by Lucy Newton
Suggested Reading Age 7+
Other titles