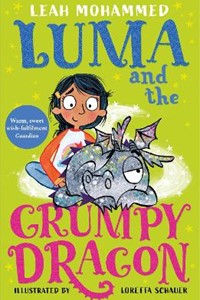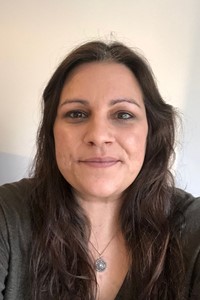 About Author
Leah Mohammed's debut book for younger readers follows Luma who discovers a young dragon in her garden. 
Leah has a degree in psychology and masters in psychotherapy and worked as a therapist before deciding to concentrate on her love of writing. Coming from a mixed cultural background, Leah's hope is to introduce diverse characters and explore different types of family dynamics in stories for everyone to enjoy. Leah lives in Surrey with her daughter and their much-loved dogs. 
Loretta Schauer (illustrator) trained as a dancer, then managed a conservation charity on Hampstead Heath - battling brambles by day, and practising her drawing skills by night. She won the Waterstones 'Picture This' competition in 2011. Loretta lives in North London at the top of a very tall building and occasionally escapes to go galloping around in the mud, swimming in the ponds, or noodling for fossils.
Interview
Luma and the Grumpy Dragon (Wellbeck Publishing)
February 2023
If you thought looking after puppies was difficult, imagine discovering a real live dragon in your back garden, and having to look after it in secret! This is what happens to Luma, and she has to learn all about dragons very quickly! Things don't always go to plan...
Download a chapter from Luma and the Pet Dragon.
Download a chapter from Luma and the Hiccuping Dragon
Download a chapter from Luma and the Grumpy Dragon
Find out more about Luma and the Pet Dragon from author Leah Mohammed, ReadingZone's Debut Author of the Month:
Q&A with Leah Mohammed with illustrations by Loretta Schauer
1. Can you tell us a little about yourself and what brought you into writing for children?
I live in Shepperton, Surrey, with my daughter and two little dogs. I wrote my first children's book a few years ago. My daughter was going through a witchy phase and for her birthday I made her a spell book, complete with an old wooden box of potions. I soon began imagining what would happen if the book and potions were real and a child actually did find it. I had so much fun writing the story, I carried on, writing another and another and another!

2. What is the first book, Luma and the Pet Dragon, about?
The book is about a little girl called Luma who discovers a baby dragon, Timir, in her garden. Luma soon learns her family has a long history of taking care of dragons - with a new one arriving every 50 years or so.
The dragons, however, can only reveal themselves to those who find them. When anyone else is about they turn into ordinary animals. For Luma, Timir turns into a small, fluffy puppy. Luma, with the help of her Nani and a very special charm bracelet, learns to take care of Timir and support him as he learns new dragon skills.


3. What inspired the idea - and would you have loved this story as a child?
Animals have always been a really important part of my life. I wanted to write a story that captured the unique bond we have with our pets. I think taking care of an animal as a child is extra special. As well as all the fun bits, it helps children to learn empathy and responsibility and I hope that is something that comes across with Luma and Timir's relationship.
I was very much horse-obsessed as a child, devouring any book with a pony on! I think, though, one thing that would have drawn me towards Luma and the Pet Dragon would have been seeing a character that looks like me, which was much more unusual all those many years ago!

3. Why did you decide to make Timir a dragon rather than another creature?
I think dragons and dogs have a lot in common - minus the fire breathing and wings! - and so it seemed the perfect choice for Timir to be both. I also really wanted to write a book with dragons in aimed more towards girls/gender neutral and to bring out the softer side of a dragon's nature.

4. Can you tell us a little about Timir, who doesn't always want to do what he's told...?
Timir is eager to explore, play and learn. Sometimes this means he doesn't always do what he's told, but I think it is more due to his cheeky nature and getting carried away rather than being naughty.
I love the idea of any animal being able to talk. I find it fascinating to imagine what they might say to us if they had the chance, which is why I made Timir able to speak. Timir does have the usual dragon traits and he learns more skills in each story. The only one I didn't include was fire as I wasn't sure how Luma would have coped with Timir accidently setting things alight! Instead, Timir has a different sort of flame, one that comes in very handy - especially for Luma cleaning her bedroom.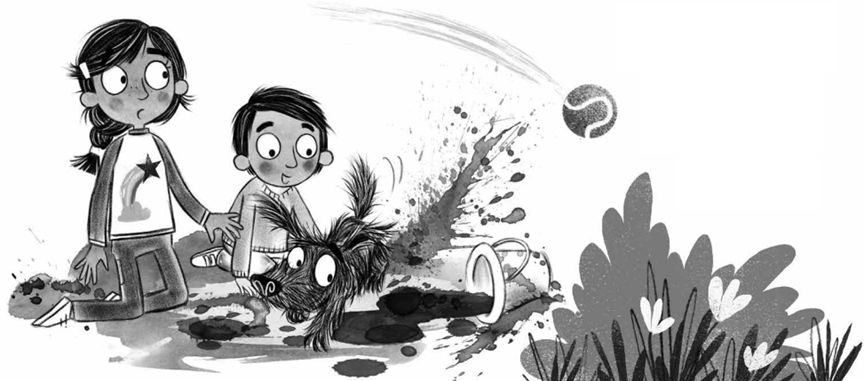 5. How would you cope if you had a small 'dragon dog' in your life? Best and worst things?
I have two dogs, Henry, a master thief and treat manipulator, and a tiny Chihuahua, called Maudie, nicknamed Chi-Rex, for the amount of time she spends looking like a dinosaur hopping about on her back legs demanding to be involved in everything going on. They are already a handful so I'm not sure what would happen if they grew wings and horns!
I believe the best thing about having a pet is the endless joy and love they bring. No matter what sort of day I'm having, my dogs (and their antics) are always there to make me smile. The worse thing about having a pet is probably the more practical and not so pleasant side of clearing up after them!

6. What do you think of Loretta Schauer's illustrations of your characters? Any favourites?
I absolutely love all of Loretta's illustrations. I was blown away when I saw the initial sketches and how she brought the characters to life. Loretta has perfectly captured Luma and Timir's personalities, especially Timir's cheekiness. I have two favourite illustrations. The first is when Luma and Timir meet in story one and the second, is in story two, when Timir spots a squirrel in the garden.

7. You include a non-traditional family in the story, how did you decide on the family members and is it important for children to read about different kinds of families?
As a single parent, I did want to include a non-traditional family. It was tricky for my daughter growing up and reading books with the standard mum and dad. I feel it is really important for children to see different types of families, ones that are similar to their own and ones their friends might have and to know that each family is unique and wonderful in its own way.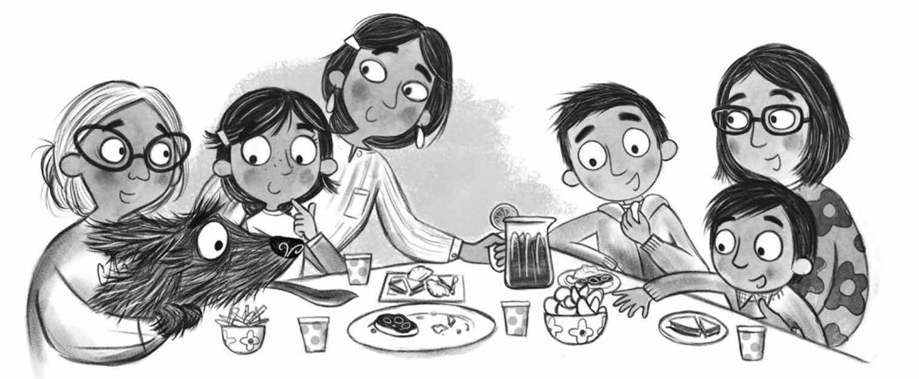 8. Can you tell us about the next books in the series?
Book Two is called Luma and the Hiccupping Dragon. The first story sees Timir waking up with a case of
unstoppable hiccups. Luma and Timir soon discover it is the first sign of his flame coming in. Luckily,
Timir is only affected when he is a dragon and so the pair set off with Nani and her friend on a trip to the local garden centre. It doesn't take long, however, before things begin to go wrong - Timir's
flame keeps bursting out, changing parts of him into a dragon and causing chaos all around them!
The second story starts with Luma and Timir preparing for a dog show later that afternoon, when
Timir realises he can't change and is stuck as a dragon. Luma and Timir have to work quickly to find
out what is going on and what it has to do with a prickly tickle on Timir's back and wings.
Book Three is called Luma and the Grumpy Dragon. Luma is excited for her playdate with her new friend from school, Ella. Timir, however, is being very grumpy. Even though he has never met Ella, he already knows he does not like her. Timir sets out to cause all sorts of trouble and starts to turn into a wild dragon. It is up to Luma - with a little bit of help from the charm bracelet - to bring Timir back to himself.
Meanwhile, it's Nani's birthday! Luma and Timir race next door, arms loaded with gifts. But Nani is worried as her dragon, Zayan, hasn't come to visit. Luma and Timir set out to find Zayan and encounter a very big surprise when Luma's cousins arrive with a large dog, called Fluffy. Luma is convinced Fluffy must be Zayan, but Timir is not so sure and why do they keep hearing a strange bird call in the garden and seeing yellow feathers everywhere?
Author's Titles