Luma and the Grumpy Dragon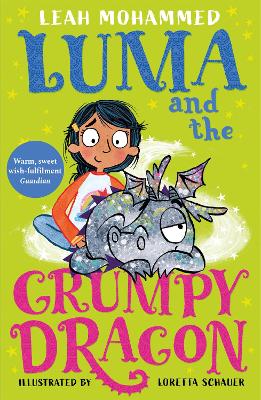 By Author / Illustrator
Leah Mohammed, illus Loretta Schauer
Genre
Magical Realism
Age range(s)
5+
Publisher
Welbeck Publishing Group
ISBN
9781801300315
Format
Paperback / softback
Published
02-02-2023
Synopsis
'Warm, sweet wish-fulfilment' Guardian
Luma's best friend in the world is her pet Timir, who looks like a puppy most of the time... except when he turns into a baby dragon.
Luma is so excited to see her new friend Ella. But Timir is very grumpy. Even though he has never met Luma's new friend, he already knows he does not like her - and is determined to cause trouble!
Meanwhile there's great excitement next door as it's Nani's birthday. Luma and Timir race to Nani's back door, arms loaded with gifts. But Nani is worried as Zayan, her dragon, hasn't come to visit her. And he's never missed a birthday before. Can Luma and Timir track Zayan down - and help to make Nani's birthday extra special?
Other titles