Luma and the Hiccupping Dragon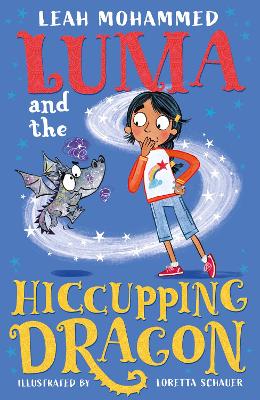 By Author / Illustrator
Leah Mohammed, illus Loretta Schauer
Genre
Magical Realism
Age range(s)
5+
Publisher
Welbeck Publishing Group
ISBN
9781801300124
Format
Paperback / softback
Published
04-08-2022
Synopsis
Luma's best friend in the world is her pet Timir, who looks like a puppy most of the time... except when he turns into a baby dragon.  Luma loves looking after cheeky Timir, but when he gets the hiccups, neither of them knows quite what to do. Nothing they try seems to help and it's not long before purple flame begins bursting from his nostrils.
And that's not the only adventure ahead. There's a dog show to get ready for, an important decision to be made about their fancy dress costume and a strange tickly itch on Timir's wings that might be more than it seems.  Two warm and funny stories about Luma's loveable pet.
See also:  Luma and the Pet Dragon (Book 1)
Reviews
Catherine
Luma and the Hiccupping Dragon is the second story I have read about Luma and her amazing dog Timir who can turn into a dragon and this one also did not disappoint. It was just as funny as the first. Timir is a typical puppy - cheeky, full of fun and bouncy. In this book, Timir starts to have hiccups which will not stop! He also starts to grow dragon wings and has difficulties turning back into a dog when he needs to which can cause lots of problems when they are meant to be keeping it a secret that he's also a dragon! Even Luma's Mum doesn't know!
I am enjoying reading about the magic bracelet. Each of the charms on the bracelet does something magical which is linked to Timir as a dragon. We learn about the charms and what they do throughout the series. As I said in my previous review, the pictures are lovely in this book and the characters believable. Children will be able to relate to Luma and her family and they will enjoy reading about her funny little dog/dragon. This book is great for those who are starting as independent readers.
160 pages / Reviewed by Catherine Kus
Suggested Reading Age 7+
Lucy
Another brilliant story about Luma! Luma and the Hiccupping Dragon includes two short stories, the first being about Luma and her hiccupping dragon. One night whilst staying over at Nani's, Luma discovers her pet Timir (who is sometimes a dog and sometimes a dragon depending on who is around!) is worried because he has the hiccups. Nani reassures them that this is a normal part of a growing dragon before they develop their flame, however, it soon becomes a bit of a problem as he keeps releasing small bursts of flame when he hiccups. Luma attempts to use her charm bracelet to stop the hiccupping but makes other discoveries along the way! The second story in the book follows Luna and her pet Timir again in 'The Prickly Tickle'.
Both stories involve a brilliant balance of adventure, magic and mystery which is enough to hook any young reader. It's layout is perfect for early readers who are just starting to enjoy chapter books; it has short chapters, large font and most of the pages are broken up by large illustrations. A great book that I know the children in my class will enjoy!
160 pages / Reviewed by Lucy Newton, teacher
Suggested Reading Age 7+
Other titles