Lyttle Lies: The Pudding Problem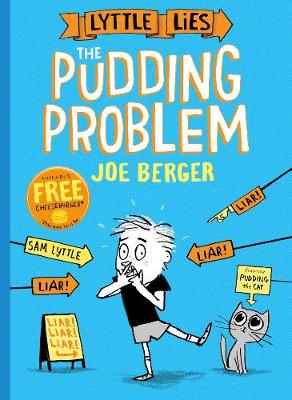 By Author / Illustrator
Joe Berger
Genre
Adventure
Age range(s)
7+
Publisher
Simon & Schuster Ltd
ISBN
9781471146244
Format
Paperback / softback
Published
12-01-2017
Synopsis
To Sam Lyttle, the truth is like an elephant. It's heavy, worrying and wrinkly. And when it's sitting in your way, you can't go under it or over it. But you CAN skirt round it...
So Sam does, every now and then, tell the odd porky-pie, much to the annoyance of his family. But is there more to Sam's occasional streeeetching of the truth than meets the eye?
The first book in this laugh-out-loud series by author and illustrator Joe Berger.
'... truly funny, with verbal, visual and fart jokes appealing not only to those who find reading heavy going.' Nicolette Jones, The Sunday Times' Children's Book of the Week
Reviews
Lauren
Sam Lyttle is a compulsive liar, who obviously cannot help it! The story shows the tales of Sam who keeps lying at home and school, which has led him into big trouble with the school bully, Feeny. Sam tries to get his way out of situations through lying, only making them worse. Not only has he got to try and escape the wrath of Feeny but he also has to deal with his lying at home - which has got him into big trouble. His Grandfather/magician 'The Great Wonderoso' shows him the greatest magic trick of all; the truth. I thought this book was hysterical and had lots of hidden jokes that some children might not get straight away, but are great for parents/teachers. The illustrations were fab and worked well with the style of writing. I was slightly dubious about this book as there are so many alike at the moment, however, I was laughing out loud reading this and I much preferred it to those similar. I think in the classroom this could be a great way to show comic strip style writing as a different genre. 240 pages/ Ages 7-10 / Reviewed by Lauren Maidman teacher.
Suggested Reading Age 7+
Alison
I was not sure whether I was going to enjoy this book as I find that there are so many 'we're like diary of a wimpy kid' type books out there that they all seem to blend into one. The other problem with some of those types of books is the amorality within them, where the lead character seems to be justified in behaviour I would not like in my own children, because they are 'goofy/funny/nerdy'. Perhaps I am just a tad old fashioned?! I was pleased to find that this book exceeded my expectations. The illustrations for the book are engaging and funny. I particularly like the cat with it's huge eyes. The story was funny but not too knowing. Some of the 'cartoony' books aimed at children have a word count that younger children can read but a sense of humour or references that go over their heads. This story was clear and well told, although it took me a moment to realise who his imaginary alter ego was. I think the story would appeal to those aged seven years upwards and equally to boys and girls. It would make an interesting basis for work in PHSE on lies and truth, even if his story turns out not to be true in the end. It also deals with the issue of bullying as he has to 'look him in the eye' and stand up to Feeny. You could also do some nice creative writing around what you might ask someone to do if you hypotised them! Both of my children (7 and 10) enjoyed the story although the 7 year old did ask what 'iffy bladder control' was! I predict it will be a popular addition to the KS2 library for those who want a funny, diverting story but still like a good number of illustrations to guide them through the text. 240 pages / Ages 7/8+ / Reviewed by Alison Urquhart, school librarian.
Suggested Reading Age 7+
Other titles