Magic Keepers: Crystal Chaos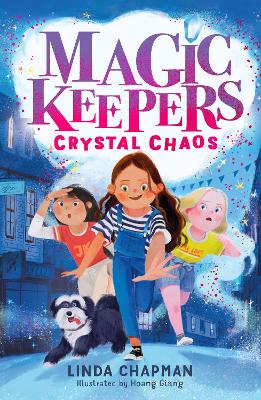 By Author / Illustrator
Linda Chapman, illus Hoang Giang
Genre
Magical Realism
Age range(s)
7+
Publisher
Little Tiger Press Group
ISBN
9781788954402
Format
Paperback / softback
Published
13-10-2022
Synopsis
Hidden away in a bustling old market town, Curio House and its mysterious collection of artefacts has been undisturbed for years. Until now...  When her mum inherits the Curio House, Ava is nervous about moving into the creaky Victorian villa, especially when she discovers a room filled with unusual objects and a box of 'magic' crystals. Ava knows they can't really be magic, but when her mischievous Tibetan terrier Pepper tries to eat one of the artefacts, a series of strange and definitely magical events unfold - and soon the whole town is in trouble!  Luckily her new friends Sarah and Lily are on hand to help, but can three ordinary girls (and Pepper) learn to control the crystals and protect the world around them?

From the author of STAR FRIENDS comes the first in an exciting new series about the power of magic and friendship, perfect for fans of RAINBOW MAGIC and Holly Webb. 
Find out more from author Linda Chapman
Reviews
Jenny
Magic Keepers: Crystal Chaos is a fun, pacy new magical adventure series starring 10 year old Ava who inherits Curio house from Great Aunt Enid . A house of that name, of course , is bold to hold treasures, secrets and mysteries… Ava finds a very particular room, full of her aunt's treasured possessions from far and wide; unusual, strange and sometimes unidentifiable objects she held dear. When Ava finds and examines a mummified animal and a box of crystals catch her eye and curiosity, she unwittingly unleashes some ancient 'Magyck' ( with very sharp teeth) and must race against time before its power is permanent. Alongside a new best friend Lily and mischievous Tibetan terrier Pepper, Ava has to turn detective to control the escaped magic and protect the town.
This is a lovely, easy to read and engaging story. The friendship between the girls is warmly written and adds a sense of relatability for the book's young readers. It is sensitively done that Ava struggles with her reading and new friend Lily supports her to find out more about the crystals. It is charming that the author has taken time to make the relationships in the book blossom in quite particular and positive ways. The story has just the right amount of peril and tension and, of course, an ending that leaves the reader thinking that there may be more adventures to come.
160 pages / Reviewed by Jennifer Caddick, teacher
Suggested Reading Age 5+
Emma
When Ava moves into her great aunt Edith's house, she inherits her aunts 'curios'. Ava's archaeologist aunt has collected the curios during her life and although they aren't particularly valuable, aunt Edith hopes that someone may find them special. This 'someone' is Ava. Along with her dog Pepper, Ava soon begins to realise just what 'special' means - the curios are magic!
Ava is fascinated with a box of crystals, each one has a power which is connected to the earth and each one helps Ava with the exception of the 'resurrection crystal' which resurrects an ancient mummified crocodile that begins to terrorise Ava's new town. Armed with a new two new friends, Lily and Sarah, Ava sets out to capture the crocodile - but this is only the start of their adventures. What powers do the other curios have?
Aimed at ages eight upwards, Crystal Chaos is a fast-moving tale of friendship and mystery. It also covers the national curriculum topic, The Egyptians. The text is accompanied by some lovely illustrations which really bring the story to life.
160 pages / Reviewed by Emma Nelson, teacher
Suggested Reading Age 7+
Other titles