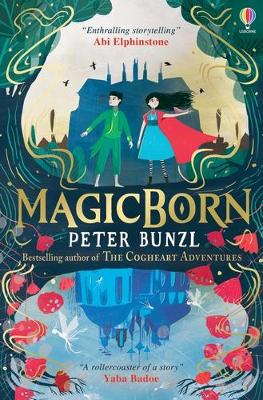 By Author / Illustrator
Peter Bunzl, illus Maxine Lee-Mackie
Genre
Fantasy
Age range(s)
9+
Publisher
Usborne Publishing Ltd
ISBN
9781474964395
Format
Paperback / softback
Published
26-05-2022
Synopsis
'The Curse is changed. You'll never know. The truth is lost. The lie will grow.' The year is 1726 and the Royal Sorcerer of England is on the hunt for those who are Magicborn. When Tempest is captured, she is taken to Kensington Palace alongside a boy like her, Thomas. Trapped, Tempest and Thomas find their magic flickering to life and, with it, long-buried memories. For they are the lost prince and princess of Fairyland, bound by a deadly curse. But now the fairies are coming to get them, and with the truth revealed...can they both survive? The first in a sumptuous and enthralling new historical-fantasy adventure series from the bestselling author of The Cogheart Adventures.
Reviews
Sue
Since the day of the Almost Drowning, Tempest has lived with her two fathers, the kind men who saved her. She can remember nothing of her life before this time nor how she can understand her robin, Coriel, when he speaks to her, but is happy living at the Ferry Keeper's Cottage with Prosper and Marino. When a sinister stranger arrives at the river crossing, he convinces her to ferry him across the river, despite her misgivings, and she finds herself caught up in his hunt for a Wild Boy. The stranger, Lord Hawthorn, is the Royal Sorcerer, who recognises Tempest as Magicborn and takes her along with the Wild Boy back to Kensington Palace where things are not as they seem.
Telling two intertwined stories, Magicborn is an incredible adventure, full of magic and mystery, friendship and deception. Set in 1726, the story takes place in an alternate version of England and in Fairyland as events surrounding Tempest and Thomas, the Wild Boy, unfold.
Relationships are very much at the heart of this story. The three children, twins, Tempest and Thomas, born princess and prince of Fairyland, and Kwesi, unwilling apprentice to Lord Hawthorn, learn to trust and value one another in the face of great danger and deception. Kwesi's story is deeply poignant and its telling adds another layer to the book, offering much to contemplate and discuss. Tempest's foster-fathers offer a stark contrast to her birth mother, showing how complex families can be and how blood ties might not be the most important factor in these.
Completely absorbing and compelling, the story moves swiftly, capturing the reader's imagination. Magicborn would make an excellent read aloud for a class and, being the first in a new series, offers the promise of more spell-binding stories to come!
368 pages / Reviewed by Sue Wilsher, teacher
Suggested Reading Age 9+
Other titles