Making A Baby: An Inclusive Guide to How Every Family Begins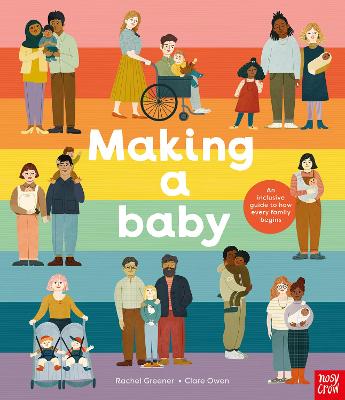 By Author / Illustrator
Clare Owen, Rachel Greener
Genre
Non Fiction
Age range(s)
7+
Publisher
Nosy Crow Ltd
ISBN
9781788008013
Format
Hardback
Published
14-01-2021
Synopsis
In this honest, accessible illustrated guide to how babies are made, young readers can find out exactly what is needed to grow a baby, from introducing the basic building blocks of life such as sperm and eggs, to explaining the different ways that these building blocks can be put together to create a family.
Working closely with a leading national LGBT organisation, this inclusive guide to Making a Baby covers sex, sperm and egg donation, IUI, IVF, surrogacy and adoption, as well as explaining how a baby grows in the womb and about different kinds of births. Written in gentle and accessible language that can be shared with younger children or read alone by confident readers, we hope this book and its clear illustrations will provide the stepping stone for every parent to have an open conversation with their child about how babies are made, and their family began.
Reviews
Maria
Making A Baby: An Inclusive Guide to How Every Family Begins is the perfect resource to use in supporting children with their learning of 'Making a Baby'.  In the ever developing world, with increased and changing medical advances, and the wide range of family set-ups, this book addresses many topics in a sensitive and inclusive way. From the natural way of reproducing right through to donors and surrogacy, this book addresses it all. With just the right mix of informative illustrations and clear text, this is ideal to use with any age and ability of child learning this topic.
32 pages / Reviewed by Maria, teacher
Suggested Reading Age 9+
Other titles