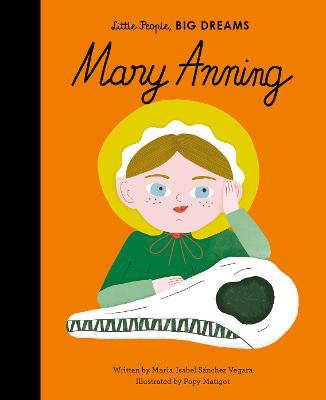 By Author / Illustrator
Maria Isabel Sanchez Vegara, Popy Matigot
Genre
Biographies & Autobiographies
Age range(s)
5+
Publisher
Frances Lincoln Publishers Ltd
ISBN
9780711255517
Format
Hardback
Published
04-03-2021
Synopsis
In this book from the critically acclaimed, multimillion-copy bestselling Little People, BIG DREAMS series, discover the life of Mary Anning, the first paleontologist and daring fossil hunter.

When Mary was little, her family was very poor. She used to help her dad to comb for shells and bones up high on dangerous cliffs. After receiving a book as a gift from a kind benefactor, Mary learned all about fossils. She continued to hunt for them and made the startling discovery of a complete skeleton of an ichthyosaur. Sadly, she wasn't allowed to study along with all the other men, but she carried on making her own discoveries - including dinosaur poo! - and advising the Geological Society when they needed help. It took a lifetime to receive recognition but we all remember her now as the mother of paleontology. This roar-some book features stylish and quirky illustrations and extra facts at the back, including a biographical timeline with historical photos and a detailed profile of the paleontologist's life.

Little People, BIG DREAMS is a bestselling series of books and educational games that explore the lives of outstanding people, from designers and artists to scientists and activists. All of them achieved incredible things, yet each began life as a child with a dream.

This empowering series offers inspiring messages to children of all ages, in a range of formats. The board books are told in simple sentences, perfect for reading aloud to babies and toddlers. The hardback versions present expanded stories for beginning readers. Boxed gift sets allow you to collect a selection of the books by theme. Paper dolls, learning cards, matching games and other fun learning tools provide even more ways to make the lives of these role models accessible to children.

Inspire the next generation of outstanding people who will change the world with Little People, BIG DREAMS!
Reviews
Emma
The Little People, Big Dreams books by Maria Isabel Sanchez Vegara discuss some of the world's most influential and inspirational people. This book is focused upon Mary Anning who grew up to be a world-renowned palaeontologist. Mary grew up in England, one of nine siblings, and only attended school on Sundays. She was given a book on fossils which sparked her interest and helped her identify a tooth that she had found. The fossilised tooth turned out to be a tooth from a creature that had roamed the land many millions of years ago. The book continues with Mary's discoveries and the reader learns that many of her discoveries were claimed by men, which unfortunately was the norm for the 1800's.
This is a delightful and beautifully illustrated book (Poppy Matigot brings Mary to life) and would be perfect for Year 2 when the class learns about dinosaurs. It would also be ideal for anyone that has an interest in palaeontology. The words on the pages appeal to younger readers and the timeline at the back of the book gives enough detail to pique a child's interest.
32 pages / Ages 5+ / Reviewed by Emma Nelson, teacher
Suggested Reading Age 5+
Other titles