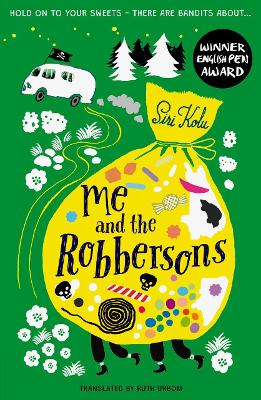 By Author / Illustrator
Siri Kolu, Ruth Urbom
Genre
Funny Stories
Age range(s)
7+
Publisher
Little Tiger Press Group
ISBN
9781788953177
Format
Paperback / softback
Published
10-06-2021
Synopsis
A madcap adventure starring a bandit family, a LOT of sweets and a girl who is ready for anything...
Maisie is convinced her summer holiday is going to be as boring as ever - until she's snatched by the Robbersons, a bunch of bandits with an insatiable appetite for sweets! Soon Maisie realizes that life on the open road with the Robbersons is just the adventure she has always longed for. They've even started to see her as one of the gang! So when she discovers that the police and her parents are hot on their trail, Maisie decides she isn't quite ready to be rescued...
A fresh and fun story about what it really means to escape, ME AND THE ROBBERSONS is perfect for fans of Roald Dahl, Danny Wallace's HAMISH series and THE SUPER MIRACULOUS JOURNEY OF FREDDIE YATES.
Reviews
Kelly
An absolute riot of a book that will make you laugh from cover to cover! 12-year-old Maisie is locked in the car with her annoying older sister, Primrose, on the way to Grandma's. It's the summer holidays and it seems set to drag on and on. Maisie longs for adventure and never suspects that she would simply be plucked out of her car mid haul by the Robbersons, a bunch of hilarious, delightfully badly behaved bandits with an insatiable appetite for sweets! Her summer holiday starts to look promising!
Maisie soon realises that life on the road with the Robbersons is what she has always been waiting for! When she realises that the police and her family are in pursuit to get her back, she isn't quite ready and hatches a plan - even coming up with her own signature crime, securing her firmly as one of the gang.
Join Maisie on a summer full of adventure, soul searching and finding your place in the world as she travels around Finland in a beat-up-bandit van making unsuspecting friends along the way. A brilliant story to enjoy with your class; be prepared for fits of giggles along the way!
224 pages / Reviewed by Kelly Buxton, teacher.
Suggested Reading Age 9+
Jennifer
Me and the Robbersons is a quirky, unique, witty and fun adventure full of odd, crazy and heartwarmingly hilarious events. Bored Maisie is not looking forward to the summer holidays with her boring, disinterested parents and utterly annoying sister, Primrose AT ALL…Until a family bunch of sweet-stealing bandits hijack Maisie's family car and steal Maisie alongside the pick and mix and packed lunches.
Ready to be scared for her life, Maisie quickly realizes that being hijacked by the Robberson family could actually be the best, most exciting summer holidays of her life! The rule-breaking Robberson family are joyfully chaotic and totally endearing. Every character is individually hilarious and engaging. There is the chunky chief of the gang, Wild Karl, with his bad back and cardigan of a "captain's coat". My personal favourite was smart talking and quick 12-year-old Hellie (handy with a bit of dangerous knife throwing but also with a love of stealing Barbie dolls).
This bandit family are not into money or big rewards but have sweet-toothed and smaller ambitions. They are more like magpies than fierce hijackers. Some tasty pick and mix, a few packed lunches, a new jacket, glittery nail varnish … It's the little things in life and hijacked cars that this eclectic gang are after.
Maisie is entranced and captivated and quickly figures out that this is the fantastic adventure she has been craving. Not at all keen at being dumped by the Robbersons or rescued by her family, Maisie makes herself at home and part of the gang - learning the tricks of the hijacking trade and the bandit code of conduct. A summer road trip is just the thing before school begins again and Maisie is going to make the most of it.
The story is so warm hearted and such escapist fun to read. The reader quite happily accepts the quirks and eccentricities of the Robbersons and goes along with the ride!
224 pages / Ages 8+ / Reviewed by Jennifer Caddick, teacher
Suggested Reading Age 7+
Other titles