Meg and Merlin: Making Friends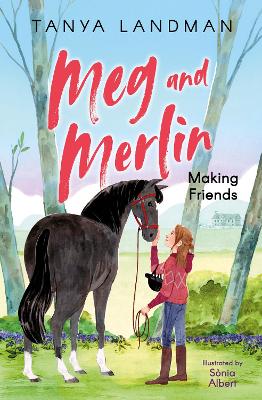 By Author / Illustrator
Tanya Landman, Sonia Albert
Genre
Animals
Age range(s)
9+
Publisher
Barrington Stoke Ltd
ISBN
9781800900851
Format
Paperback / softback
Published
06-01-2022
Synopsis
Meg treasures every moment that she gets to spend riding, and she has always longed for a pony of her own. She knows Mum and Dad can't afford a pony - they can't even afford her weekly riding lessons any more. But on the morning of her tenth birthday, Meg looks out the window to an unbelievable sight... a pony standing in the front garden. Have all of Meg's wishes come true?
Award-winning author Tanya Landman brings a fresh perspective to horse-riding stories with a heart-warming new series about friendship and dreaming big.
Reviews
Donna
The only thing that Meg loves is horses. She loves her riding lessons and cannot wait for each one to arrive. But when dad's working hours are reduced, money is tight, and Meg can only go riding occasionally. She dreams of horses every night. And then one morning, it seems as though her wish has come true when a pony appears in her garden. She secretly hopes that, finally, her parents have got her a pony. But her dreams are dashed. The pony isn't hers; it belongs to someone else, and Meg must give it back. Heartbroken, she rides it back to its owner. But what happens when Meg meets the lady who cares for the pony could change her life forever.
Meg and Merlin: Making Friends is a joyous tale for horse-loving readers. Tanya Landman takes us on the emotional journey of wanting something that you can't have and then sprinkles her tale with a little bit of hope. Young readers will enjoy following the tales of Meg and Merlin as they continue their adventures together.
Links to: family problems, dreams, wants and needs, and of course...ponies.
64 pages / Reviewed by Donna Burkert, teacher
Suggested Reading Age 7+
Other titles