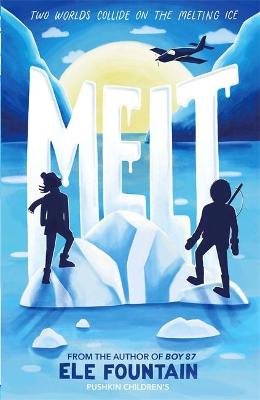 By Author / Illustrator
Ele Fountain
Genre
Environment
Age range(s)
9+
Publisher
Pushkin Children's Books
ISBN
9781782692881
Format
Paperback / softback
Published
04-03-2021
Synopsis
Yutu lives in a remote, Arctic village with his elderly grandmother. Their traditional way of life is threatened by the changing snow and ice, which melts faster every year.

Bea is trying to adapt to yet another new school. Worse still, her father's new job takes up any spare time, and his behaviour becomes odd and secretive. On a trip she hopes will fix things, their fates take a drastic turn and Bea's life becomes entwined with Yutu's in a way she could never have imagined.

Together, they are locked in a desperate race for survival.
Reviews
Jo
Two lives, seemingly poles apart, are thrown together in a quest to seek answers and, most importantly to survive. Bea is always the new girl. Her Dad's job means that she is forever moving home, moving schools, losing friends and trying to fit in. Yutu lives a traditional way of life with his grandmother. He wants to prove that he can provide for her and to slowly break the ties that bind him. All Bea wants is to stay in one place for long enough to make and keep a friend whilst Yutu dreams of life away from his small community and the chance to explore the big wide world.
When Bea is offered the chance to travel with her father to the Arctic Circle on a work mission, she is thrilled. She longs for precious time with her Dad who has been so distant lately, the chance to see the remote landscapes of the Arctic and the opportunity to escape the nightmare of school. Yutu has decided to venture alone to bring seal meat back to Grandma; he wants to show to her that he is capable of using traditional hunting methods and that he can be trusted to look after himself and to look after her. For Bea and for Yutu, things don't go according to plan and disaster brings them crashing together. Despite their differences, the pair find a bond and must work together to save themselves, to save Bea's father and to save the age old traditions in danger of being lost forever.
Peril, pursuit and mystery are the perfect ingredients for a chilly, thrilling adventure, filled with exciting action and tension; this really is a gripping read. Subtly woven within its pages, however, is an important message of environmental change and readers will be prompted to think about the melting ice caps and rising sea levels. This message has impact as we see the very real, day to day consequences of climate change upon the lives of characters that we care about. There is empathy and compassion in Melt and I found it hard to put down.
256 pages / Ages 9+ / Reviewed by Jo Clarke, teacher
Suggested Reading Age 7+
Kelly
I devoured Melt by Ele Fountain in two-sittings. This book left me stunned and collecting my thoughts. Melt is a beautifully written story about two polar opposite worlds colliding and fusing in a feat of survival.

I enjoyed the parallel narratives at the beginning of the book: and unsuccessfully predicting, much to my delight, their convergence.

Bea, a city dweller, moves a lot: makes friends, packs, moves again, a perpetual cycle. Eventually missing step one, why make friends when you are only going to move again?

Yutu, a boy who lives a traditional way of life in a snow-bound remote Arctic village with his elderly grandmother, longs for adventure.

Their worlds collide when Bea's father, a geologist working for an oil company, takes a new job that threatens the Arctic and tests his morals. His behaviour becomes secretive and odd. Bea and Yutu, an unlikely pair, team up in a race for survival in the unforgiving Arctic Tundra in search of the truth.

Themes of survival, friendship, nature, climate change and bravery make this an ideal story for upper KS2. A fast-paced, immersive and gripping read from beginning to end.

256 pages / Ages 9+ / Reviewed by Kelly Buxton, teacher
Suggested Reading Age 9+
Other titles