Merry Christmas, Blue Kangaroo!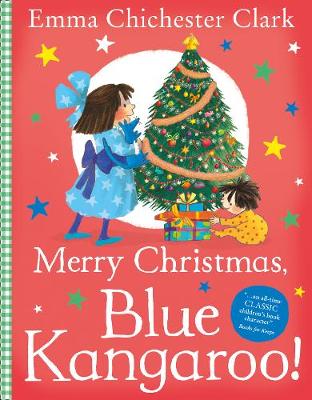 By Author / Illustrator
Emma Chichester Clark
Genre
Picture Books
Age range(s)
3+
Publisher
HarperCollins Publishers
ISBN
9780007197149
Format
Paperback / softback
Published
02-10-2006
Synopsis
It's Christmas Eve, and Lily is excitedly wondering if Father Christmas will come. She has made cards for everyone, helped to decorate the house and put presents under the tree.
"This one is just for you, Blue Kangaroo!" she says.
"Just for me!" thinks Blue Kangaroo.
But Blue Kangaroo doesn't have a present for Lily, and he lies awake worrying. Is there anyone who might be able to help?
Reviews
Kyle
This is a lovely story to read in the build up to Christmas. The book revolves around a girl called Lily and her well loved teddy - Blue Kangaroo. Lily is very aware that this is Blue Kangaroo's first Christmas so she wants to do everything she can to make it fanstastic and memorable. I read this book with my year 1 class and they enjoyed seeing the activities Lily and Blue Kangaroo got up to - some of which could be done in school during Christmas. The children also enjoyed the repeated rhyme that appeared throughout the book. The story ends with a lovely message that teaches children that it isn't always the most amazing gift that means the most, it is the one which has had the most thought go into it. My children really enjoyed this book and it is one that I will happily add to my Christmas story collection. Picture book / Ages 4+ / Reviewed by Kyle Matravers, teacher.
Suggested Reading Age 5+
Anita
A small child experiences the excitement of traditional Christmas preparations from wrapping presents, decorating the house and tree, making cards, being visited by family and the joy of giving and receiving gifts. With colourful illustrations throughout, the story starts at the beginning of Christmas and gently leads the reader through traditional preparations from the perspective of a small child. Lily, the little child, is surrounded with love and involved in all aspects of Christmas. Her love for her small toy, the Blue Kangaroo, shows itself in her concern and desire to include him in the festivities. She is a really happy little girl, eager to please and eager to include everyone in the fun of Christmas. Unexpectedly, the Blue Kangaroo gets to meet Father Christmas who then helps him find a gift for his beloved Lily. Essentially this delightful story is about love of friends and family and about finding the perfect gift to show and share that love. I would thoroughly recommend this book as an annual treat to saviour after putting up the tree year after year. Picture book / Ages 3+ / Reviewed by Anita Milton, teacher.
Suggested Reading Age 3+
Other titles