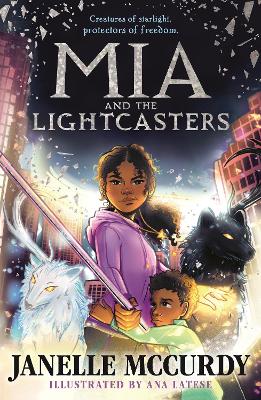 By Author / Illustrator
Janelle McCurdy, illus Ana Latese
Genre
Fantasy
Age range(s)
9+
Publisher
Faber & Faber
ISBN
9780571368433
Format
Paperback / softback
Published
04-08-2022
Synopsis
The launch of an outstanding debut fantasy series.  'A fresh, wild, gripping adventure.' Kieran Larwood, author of The Legend of Podkin One-Ear
Beware of the shadows, the Reaper King is coming . . .Mia always dreamed of being an umbra tamer until she met the wild creature on the Nightmare Plains. Since that day, she prefers to stay safe within the walls of Nubis. Safe, that is, until a surprise attack.  With her parents captured, Mia's only hope is to travel to the City of Light to find help. But with only her little brother, two friends and one solitary tamed umbra, the journey feels impossible. Mia not only has to overcome her fears, she also has to learn to harness her umbra taming abilities if they are to complete the quest in time.
For fans of Amari and the Night Brothers, The Legend of Podkin One-Ear and Nevermoor, this is the first in the sensational Umbra Tales series, illustrated by Ana Latese.
Video and Q&A with author Janelle McCurdy
Reviews
Kelly
A fast paced, action packed middle grade adventure story about good vs evil. I love the modern tech-driven twists that this story offers.
Mia and the Lightcasters plunges readers into the middle of a game where the objective is to survive by overthrowing the reaper king - a demonic-inspired character set on destroying the world - and restoring peace. I really enjoyed how Mia's character evolves from beginning to end. Once, a young girl looking to her parents for guidance to being responsible for everyone's safety, including her younger brother. An interesting parallel story runs throughout, that of Mia and Miles. Once best friends and now face-to-face enemies, putting Mia in a complicated dilemma.  Friendship and family are key themes running through the story: showing that it doesn't matter how hard things get: there is always someone to lean on for support.
Mia and the Lightcasters displays the hidden power and strength within and encourages readers to know and understand their true worth. Children who enjoy stories with animal companions set in a game-inspired arena, will love Mia and the Lightcasters.
416 pages / Reviewed by Kelly Buxton, teacher
Suggested Reading Age 9+
Lisa
Mia and The Lightcasters is a book that you cant put down! It is an exciting fantasy novel aimed at children from aged 8+.
Mia, who lives with her little brother and parents, dreams of being an umbra tamer until a haunting encounter leaves her afraid and staying close to home. Mia is forced to face her fears when her parents are captured and she is tasked with getting help from a far away city. Her journey leads her to finding out more about the mysterious Lightcasters, and if she might have a connection to them.
This is a book that I will be proudly displaying in my classroom and recommending to many children who I know will devour it. I have not come across many other children's books that explore fantasy worlds this imaginatively and can draw a reader in to them. We have been consciously researching books with main protagonists of colour in school and this is certainly one to add to the list. There are unfortunately not many within this genre, especially a female role, too.
Mia and The Lightcasters is perfect for children who love sci-fi, fantasy, adventure or technology. It is a really great addition to books of these genres and one I know many children in our school will enjoy reading.
400 pages / Reviewed by Lisa Watkins, teacher
Suggested Reading Age 9+
Other titles