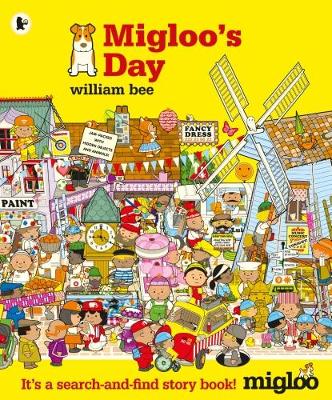 By Author / Illustrator
William Bee, William Bee
Genre
Adventure
Age range(s)
5+
Publisher
Walker Books Ltd
ISBN
9781406365603
Format
Paperback / softback
Published
07-04-2016
Synopsis
Join Migloo, a fun-loving dog, on his day out and about in the busy, silly and hilarious world of Sunnytown!

From the iconic creator of Whatever, William Bee, comes a brand new series and the ultimate search-and-find story book experience. Meet Migloo - everyone's favourite dog - and follow him on his adventures through Sunnytown as he follows his nose for delicious treats, meets all his friends along the way and even saves the day! Jam-packed town scenes illustrate the adventures of Sunnytown's residents through comical, visual narratives (follow Milo the Monkey who has run away with Zebedee's hat or spot the little rubber ducks that have escaped the plastics factory) and spot all of the town's vehicles on the eye-watering gatefold - fire engines, tractors, ice-cream vans, racing cars and fork-lift tricks! With a chock-a-block play page at the end of the book, too, there are so many hours of interactive fun to be had!
Reviews
Marie
If you love Where's Wally, then Migloo's Day (now available in paperback) is one for you. In this search and find story book, Migloos day unfolds with lots of great tales of everyday adventures. The search and find pages are great fun and offer lots of discussion opportunities. These books would work well as a support for speech and language teachers developing narrative work. There is so much to talk about in the pages with many different characters doing all sorts of different things. I would find this book really useful as a stimuli for writing simple sentences as children could write about all the different characters in the story. It will also offer lots of opportunity to develop vocabulary. My children enjoyed this book and it provides a multiple read by keeping children engaged and interested. 38 pages / Ages 5+ / Reviewed by Marie Berry, teacher.
Suggested Reading Age 5+
Other titles