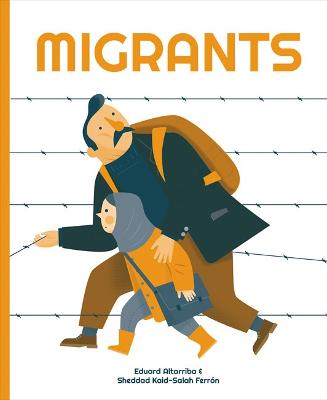 By Author / Illustrator
Eduard Altarriba
Genre
Non Fiction
Age range(s)
7+
Publisher
Button Books
ISBN
9781787081291
Format
Paperback / softback
Published
11-04-2023
Synopsis
Migrants is a book designed to provide an easy-to-understand explanation for all the doubts kids might have when they hear about the 'migrant crisis' on the news. Humanity was nomadic for 99% of its existence. Sedentary life, national borders and the creation of identity documents for increasingly stricter population control are comparatively recent phenomena, and paradoxical given that the world is becoming ever more globalized.
The recent emergence of populist movements in the West that are focused on closing borders and rejecting others raises serious questions about our sense of fraternity, especially when we could be facing ever larger migration movements due to the climate crisis. This book concisely explains what migration is, its causes and consequences, and the humanistic and legal aspects regarding it in the simplest, most objective ways possible, so that children have all the information they need to understand the world around them.
For ages 8+.  Author Sheddad Kaid-Salah Ferron is a science and physics enthusiast with degrees in physics and pharmacy. Since graduation he has been teaching science to children, continuing to study physics, working in the pharmaceutical field and staring at the universe with his telescope. He now writes popular science books. Illustrator Eduard Altarriba is a graphic designer and illustrator. He runs Alababala, a Barcelona-based independent studio producing games, exhibitions, animation, apps and workbooks for children that are practical and fun.
Watch the Book Trailer  See also:  What is War?
Reviews
Jennifer
A non-fiction book that takes an indepth, but child accessible, look at the many issues surrounding the highly relevant and high profile topic of migration and immigration. The contents are comprehensive and cover the past history, various reasons, and causes and effects of migration throughout the world.
It is a beautifully crafted book; clear and concisely formatted with a historical timeline of migration over thousands of years , right up until ongoing issues today. It engages the reader with excellent explanations of many of the legal, practical , official stages involved in the process of migration as a whole and also details the more emotional/empathetic concerns regarding migration, of the human cost and impact.
The author makes reference to past and present circumstances throughout the various sections. There is a very well balanced tone to the book. As well as discussing why some people may need to leave their home country, it discusses those who protest against it as well as well as those who prey on and abuse those in desperate situations.
The text, diagrams and illustrations are all easily navigated - in shades of black, white and orange - so the whole effect is a really well-ordered and approachable NF book which is very sensitively written and is pitched perfectly for its younger reader - neither patronizing nor going above a suitable comprehension range. An invaluable, fascinating resource for our school library.
44 pages / Reviewed by Jennifer Caddick, teacher
Suggested Reading Age 7+
Other titles