Monster Hunting For Beginners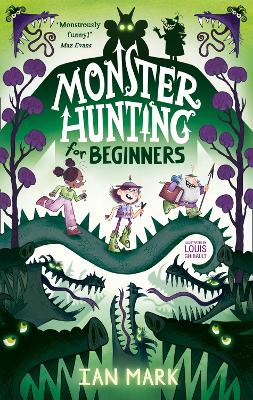 By Author / Illustrator
Ian Mark, Louis Ghibault
Genre
Funny Stories
Age range(s)
7+
Publisher
HarperCollins Publishers
ISBN
9780755501946
Format
Hardback
Published
02-09-2021
Synopsis
A monstrously funny new adventure series. Readers of 8+ and fans of Mega Monster and Shrek will adore the first in the brand new fantasy series from Irish debut author, Ian Mark
Every hero has to start somewhere . . .Monster Hunting isn't as easy as it looks. And Jack should know. Because an ogre has just appeared in his garden and tried to EAT HIS AUNT. (She was the winner of the World's Worst Aunt competition, but that's Not The Point).  After (sort of accidentally) defeating the ogre, Jack finds himself apprenticed to a grumpy, 200-year-old monster hunter called Stoop and heading off to Cornwall, where more ogres are causing havoc.  All he has are his wits, his catapult and a magical - sometimes unreliable - book called Monster Hunting for Beginners.  Jack's a bit worried he might not be the hero everyone's waiting for. But then again, how many terrifying, bloodthirsty monsters can there really be?
(Answer: ABSOLUTELY LOADS. And a bear called Humbert).
A hilarious and accessible story, packed full of illustrations - that gives a twist to all your favourite fairytales and will change everything you thought you knew about monsters! Perfect for apprentice monster hunters aged 8 to 800.
Reviews
Sharon
Jack, what else would a monster slayer be called, has a terrible aunt who is really mean to him and who is totally ungrateful when he rescues her from the jaws (literally) of an ogre. However that's when our Jack's adventures really begin. Stoop takes Jack on as his apprentice and we learn all about the different monsters as Jack learns about them throughout this story.
My class thought the humour of this book was great and when the characters were underground, this was shown by white writing on a black background, clever authoring here we thought. The illustrations by Louis Ghibault were funny, my class loved the drawing of the monsters asleep in the cave; it gave us the impression that the monsters' lives were really chaotic.
We thought this book would be good for children aged 8 and over to read on their own, but thought that it could be fun for younger children to have read to them by an adult (or older sibling).
This is a modern day fairy tale type story, with ogres, monsters and a slayer to boot, a good fun book to read for pleasure.
304 pages / Reviewed by Sharon Porter, teacher
Suggested Reading Age 7+
Louisa
Jack is a child. He is small for his age, clumsy and wears glasses. He is also an apprentice monster hunter - after all, his name is Jack. At the start of the story, his over-protective dad mysteriously disappears and Jack is tricked into becoming apprentice to an elderly monster-hunter called Stoop. Under Stoop's guidance, he begins to uncover the secret world of monsters (did you know about crusted hairy snot nibblers?) and the latest regulations that monster-hunters need to follow (did you realise that monsters now need to be rehabilitated, not killed?).
Before he can really get to grips with it all, Jack is fitted with seven-league boots and hastening to defuse an ogre crisis in King's Nooze. There he meets Nancy, a plucky young girl with a thirst for adventure, and Humbert, a bear with a fondness for knitting. Together they need to defeat a convention of very stinky and very dim ogres and the preposterously villainous Aunt Prudence.
Here's a story that doesn't take itself too seriously, crammed with ludicrous set pieces, and rather a lot of belching and flatulence from the ogres. It plays on traditional themes and characters of traditional tales, mining them for humour, and it's all told in a chatty style in the first person in Jack's jokey and self-deprecating tone. The design and illustration complement the informality of the story. There are generous numbers of amusingly cartoonish black and white pictures as well as pretend pages from a monster-hunting manual that break up the narrative.
It will be a handy addition to our school book corners to appeal to children who enjoyed the How to Train Your Dragon series and for children in Year 3 and 4 who are exploring traditional tales and beginning to see how they can be played with to make new stories.
304 pages / Reviewed by Louisa Farrow, teacher
Suggested Reading Age 7+
Other titles