Mort the Meek and the Monstrous Quest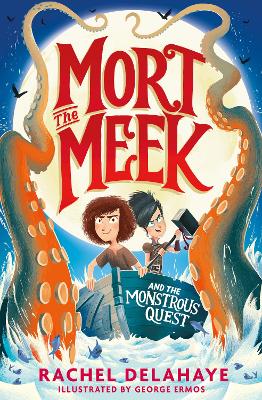 By Author / Illustrator
Rachel Delahaye, George Ermos
Genre
Funny Stories
Age range(s)
7+
Publisher
Little Tiger Press Group
ISBN
9781788953153
Format
Paperback / softback
Published
06-01-2022
Synopsis
"Engagingly light-hearted, Pratchettesque comic fantasy" - The Guardian

Around the unfriendly, rocky island of Brutalia, the waves are awash with brave sea-farers, on a treasure hunt for their demanding queen. Among them is Mort, but rather than hunt for treasure, he's more interested in looking for his family who are lost at sea. Unfortunately, his shipmate Punky has her eyes firmly on the prize.  But when the pair find the tentacle of a mythical sea creature, their adventure takes a dramatic turn. Is this the prize-winning treasure Punky and the queen seek? Or could it be a monstrous twist in Mort's rescue mission?

The second book in a wickedly funny series about an aspiring pacifist in a brutal kingdom, perfect for fans of the HOW TO TRAIN YOUR DRAGON series, FROSTHEART and THE NOTHING TO SEE HERE HOTEL.

"A rip-roaringly funny read from the queen of comedy" - ReadingZone. "This is a hilariously dark adventure for anyone who wants to stand up for what's right" - Tsam P, Bookseller
Reviews
Lillie

- Age 10
I think it's really funny and weird because in Brutalia everybody except Mort and Weed are mean to one another. My favourite character is Punky because at the start she wasn't very nice and she wanted to be a rock crusher, but at the end she became friends with Mort and Weed.
Suggested Reading Age 9+
Oliver

- Age 10
The book was very funny and creative. I love the part where the fishermen worshipped Mort when he changed the storm into a light breeze.
Suggested Reading Age 9+
Daisy

- Age 9
This story is about a young boy named Mort, who went on a monstrous quest with a person he does not like. The quest is to try to get a jewel for their queen. If they succeed, they can be crowned demi-gods because the queen thinks she is a god. Also when he was younger, his dad went missing and he thinks his dad was swallowed by a giant octopus that has three tentacles and is named the Belgo. Is he alive? Read the book to find out!
Suggested Reading Age 9+
Elen
It was so much fun to return to the island of Brutalia and to get another glimpse into the (brutal!) lives of its inhabitants. Mort the Meek and the Monstrous Quest is, if anything, even more anarchic than book 1 (Mort the Meek and the Raven's Revenge), with the citizens of Brutalia now forced to seek out sublime presents for their queen, who now believes she is descended from the gods....
Mort, who intends to seek out his father who is missing at sea, gladly steps up to the queen's challenge and sets of on his quest, but of course things don't go to plan and he finds himself on a rickety boat being chased by a massive sea monster.... Can being a pacifist help Mort turn things around...?
This is a story about looking beyond the surface to see what people - and massive sea monsters - are really like. It's a story about quests, friendships and family, and it is very, very funny.
224 pages / Reviewed by Elen Green
Suggested Reading Age 7+
Other titles