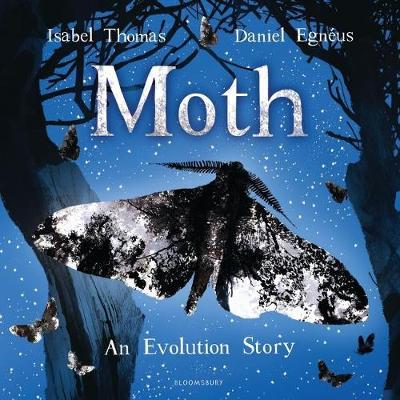 By Author / Illustrator
Isabel Thomas, Daniel Egneus
Genre
Non Fiction
Age range(s)
7+
Publisher
Bloomsbury Publishing PLC
ISBN
9781526610553
Format
Paperback / softback
Published
20-08-2020
Synopsis
"This is a story of light and dark.  Against a lush backdrop of lichen-covered trees, the peppered moth lies hidden. Until the world begins to change..."  A clever picture book text about the extraordinary way in which animals have evolved, intertwined with the complication of human intervention. This remarkable paperback edition of the amazing story of the peppered moth is the perfect introduction to natural selection and evolution for children.  Along come people with their magnificent machines which stain the land with soot. In a beautiful landscape changed by humans how will one little moth survive?
Powerful and visually spectacular, Moth is the remarkable evolution story that captures the struggle of animal survival against the background of an evolving human world in a unique and atmospheric introduction to Darwin's theory of Natural Selection. Shortlisted for the English Association Best Picture Book Awards 2019 and English 4-11 Picture Book Awards 2019.
Reviews
June
Moth - An Evolution Story is a visually stunning picture book, from the midnight blue and sparkling silver cover to the intense colours of the internal pages - you can almost feel the soot coming off the page! It tells the story of the peppered moth and how it adapted to changes in the environment to ensure its survival, from the days when the moth's brightly coloured speckled wings helped it blend into the trees and foliage, to the dark days of heavy industrialisation when those same brightly coloured wings stood out a mile and made the moth easy prey. The moth adapted to have salt and pepper coloured wings that blended into the smog and gloom of the factories, thus ensuring the survival of its species. Following measures to clean up the air and the environment, both variants of the peppered moth now thrive.
This is one of those picture books that takes a difficult theme (natural selection and evolution) and makes it accessible to children. Though the book does not delve heavily into the science of how these adaptations occur, it serves as a clear introduction to the whys and wherefores of evolution and would make an excellent starting point for deeper conversations about the subject.  The illustrations are colourful and striking while the text in the main body of the book is clear and in short, sharp sentences. For the child eager for more information, the book ends with a double page spread telling the scientific story of the peppered moth's evolution, introducing Darwin, air pollution and climate change.
The recognition that picture/heavily illustrated books have a value for children (and adults) with developed reading skills is growing. The development of 'visual literacy', of sparking further thought, conversation and research in particular topics, is well served by picture books of this quality and Moth would be a worthwhile addition to a library of such books.
Picture book / Reviewed by June Hughes, school librarian.
Suggested Reading Age 7+
Other titles