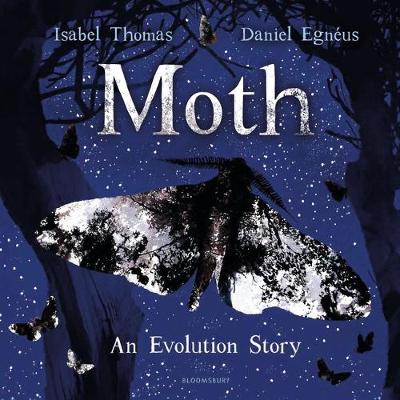 By Author / Illustrator
Isabel Thomas, Daniel Egneus
Genre
Non Fiction
Age range(s)
7+
Publisher
Bloomsbury Publishing PLC
ISBN
9781408889756
Format
Hardback
Published
14-06-2018
Synopsis
Powerful and visually spectacular, Moth is the remarkable evolution story that captures the struggle of animal survival against the background of an evolving human world in a unique and atmospheric introduction to Darwin's theory of Natural Selection. Against a lush backdrop of lichen-covered trees, the peppered moth lies hidden. Until the world begins to change ... A clever picture book text about the extraordinary way in which animals have evolved, intertwined with the complication of human intervention. Along come people with their magnificent machines which stain the land with soot. In a beautiful landscape changed by humans how will one little moth survive? Shortlisted for the English Association Best Picture Book Awards 2019 and English 4-11 Picture Book Awards 2019.
Reviews
Bryony
Moth, An Evolution Story is a clever hybrid. Part picture book and part non-fiction, the author has cleverly woven scientific fact about adaptation and evolution with a message of hope. Visually, this text is stunning. Every page provides a new response and delight. The text is set out imaginatively and thoughtfully.
The book works on several levels. Firstly as a picture book for children who are curious about nature and history. Secondly, it works as an excellent introduction and hook into the Upper Key Stage 2 science topic of Evolution. Older pupils would be able to take a lot from the text and the images as well as the well thought out final pages with the story of the moth.
Picture book / Ages 4-9 years / Reviewed by Bryony Davies, teacher.
Suggested Reading Age 5+
Kyle
The story of evolution and adaption is covered wonderfully in Moth.  Everything about this book is a success from the beautiful artwork to the poetic language, which is linguistically balanced enough to be accessible to both children and adults, and so much more.
Through reading this text, children become more knowledgeable on the topics of evolution, adaption, pollution and how humans are responsible for the consequences of their actions. There is also the underlying message of hope; a message that children don't have to settle, that they too can adapt to changes in their worlds and survive.
I certainly feel that this book could be used in primary schools to help lead learning around the above mentioned topics. It would work well as an introductory hook and could provoke many great discussions as well as writing opportunities. I will be recommending it to colleagues as a potential text to plan against. I certainly feel Isabel Thomas has worked wonders here and could extend the series to include other animal adaptions based on human factors.
48 pages / Ages 5-9 years / Reviewed by Kyle Matravers, teacher.
Suggested Reading Age 7+
Other titles