Mouse and Mole: The Secret of Happiness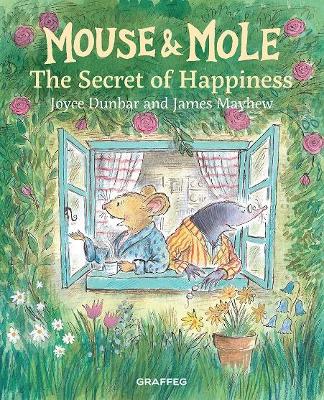 By Author / Illustrator
Joyce Dunbar, James Mayhew
Genre
Friendship
Age range(s)
5+
Publisher
Graffeg Limited
ISBN
9781913134839
Format
Hardback
Published
11-05-2021
Synopsis
The Secret of Happiness:  Mole dreams that he finds the secret of happiness and wakes a grumpy Mouse to tell him, but then Mole instantly forgets! Mole spends all day trying to remember, bringing Mouse and all their friends to join his search, but will he manage to discover the secret again?
This Way and That:  Mole sets off for a walk going this way and that, but Mouse keeps asking him to run errands for him. But why is Mouse making Mole run these seemingly useless errands, and will Mole ever be able to go for his care-free wander?
A Good Read: Mouse and Mole sit down for a good read, but Mole can't stop fidgeting and distracting Mouse. Whether it's finding a place to sit, having hiccups, itching and scratching or yawning, Mole just can't stay still.
Reviews
Maria
I read this lovely book, Mouse and Mole: The Secret of Happiness, to my class this week and each of the three short stories was given 5 stars. The book has three chapters about the friendship and adventures of Mouse and Mole.
A Good Read is about the two friends unable to read their books as both are disturbing each other by giggling, fidgeting and hiccupping! This chapter is excellent support for reading verbs and we explored all the verbs and their suffixes. This Way and That was a funny chapter as Mouse tricks Mole into lots of walks to keep him busy! In The Secret of Happiness, Mole tries to remember his dream. All day he searches and he explains how it "sort of bubbled up, it sort of billowed, it sort of bloomed from somewhere deep inside me". His friends arrive to share tea and to try to help him remember.
These stories are gently told by Joyce Dunbar and the characters of Mouse, Mole and their friends are beautifully illustrated by James Mayhew. A lovely book to use about friendship.
Picture book / Reviewed by Maria Aldred
Suggested Reading Age 5+
Other titles