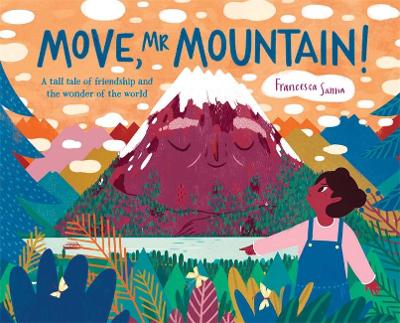 By Author / Illustrator
Francesca Sanna
Genre
Friendship
Age range(s)
5+
Publisher
Templar Publishing
ISBN
9781787418059
Format
Hardback
Published
10-06-2021
Synopsis
Mr Mountain has seen it all - from the arrival of the very first plants and worms, to dinosaurs, mammals, and, more recently... humans. Even when they climb all over him, Mr Mountain is very good at keeping calm and steady, and is determined to spend his long life resting his heavy arms and eyelids. Until one day, when he is disturbed from his slumber by a little voice asking him to 'Move, Mr Mountain!'. It seems his neighbour Lily is desperate for him to move out of the way so she can see what's on the other side of him. But of course a mountain cannot move, and at this Mr Mountain finally loses his temper! The wind picks up, snow starts to fall and the ground begins to rumble and shake... but little Lily remains unfazed. Can they set aside their differences and find a way to get along?  This heart-warming story includes themes on unexpected friendships, consideration for others and an appreciation for all the beauty the world has to offer.
Reviews
Marie
I really liked Move, Mr. Mountain and resonated hugely with the sorts of challenge we face with children every day. The story is about Mr. Mountain, a great established mountain and his nose is significantly put out of joint when a small girl Lily, tells him to move so she can see behind. Mr. Mountain responds by telling her 'no', and that she must walk over him to see. She continues to demand he move, and he responds by showering the village with different weathers to show his power. Lily is delighted by the rain, gales and snow she sends. Exasperated by her response, he eventually lifts her to the other side and together the admire the world behind the mountain and start imagining the future adventures exploring.
Lily then learns to climb the mountain and travels across the world. The Mountain is left sad in Lily's absence, and this is reflected in the mood of the mountain. When Lily returns, he is once again happy and the sun shines again over the village.
Since lockdown and children's return to school, we have worked hard with children to help them learn how to build friendships and socialise again. Move, Mr. Mountain will be another great book to add to the collection and we will be reading this with our children in school. Often children find it hard to recognise that friendship is about give and take and that their demands won't always be met with the response they want. Also that friendships ebb and flow and that you don't always have to be together to remain friends. I love these type of books; they offer such a wealth of resource to use with children
Picture book / Reviewed by Marie Berry, teacher
Suggested Reading Age 5+
Wendy
This is a lovely story about an unlikely friendship between a little girl called Lily and a mountain in her village. Lily is a sassy and opinionated young lady who thinks the mountain should move, so she can see what lies beyond. The mountain reacts badly to her demands and causes some extreme weather to fall on the village but Lily just laughs and brushes it off. Eventually, the mountain invites her to climb to the summit and she is enchanted by the view beyond, sparking a desire to venture out into the world and see more wonders. She doesn't forget her old friend the mountain and brings back photos and stories about her adventures.
This book is a fabulous tall tale of fixed mindsets and learning to appreciate other points of view. The artwork is beautiful, bright and engaging with plenty of details for talking points. Perfect for Key stage One as an assembly story, a PHSCE resource or just a good old-fashioned, whole-class story time book.
Picture book / Reviewed by Wendy Kelly, teacher
Suggested Reading Age 5+
Other titles