Mummy Fairy and Me: Mermaid Magic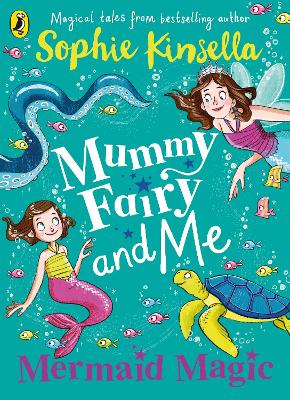 By Author / Illustrator
Sophie Kinsella, Marta Kissi
Genre
Fairy Tales & Folk Tales
Age range(s)
5+
Publisher
Penguin Random House Children's UK
ISBN
9780241380314
Format
Paperback / softback
Published
05-03-2020
Synopsis
The perfect story to read together with your little one!  My mummy looks normal, like any other mummy . . . but she's not. Because she can turn into a fairy. All she has to do is stamp her feet three times, clap her hands, wiggle her bottom and say 'Marshmallow' . . . and POOF! She's Mummy Fairy.

Ella's family has a BIG secret - her mummy is a fairy! But sometimes Mummy Fairy's magic goes wrong, and then it's up to Ella to help.  In this book of enchanting adventures, Mummy Fairy and Ella decorate the kitchen with magic colouring pencils, catch a robber on Ella's school trip - and swim with real mermaids!

The fourth book in this magical series for 5-7 year olds, from global bestselling author Sophie Kinsella.
Reviews
Lauren
Ever wondered what it would be like to have a fairy as a Mum? Mummy Fairy and Me: Mermaid Magic is a collection of four stories written by the brilliant Sophie Kinsella, about Ella Brook's tales of her and her fairy family!
Ella spends time with fairies and mermaids, helping save whales and solving robberies, all with the help of her fairy mother - although Mummy Fairy's spells do not always go to plan!  Ella is a fairy-in-waiting, as she is not old enough to go to fairy school, but her Aunty Jo and her Granny are also fairies and help and support her, mostly! When fairy Aunty comes to school with Ella and tries to help her with her science project and defeat the unkind Zoe, fairy magic doesn't always go to plan...

I really enjoyed that the book was a collection of short magical tales as it broke the book up and would be great for bedtime reading or an end of the day story. The stories were fun and simple to follow, which would be great for children who are just starting to get into reading small chapter books.  Everybody loves a bit of magic, mermaids and of course, FAIRIES!

140 ages / Ages 6+ / Reviewed by Lauren Maidman, teacher
Suggested Reading Age 5+
Other titles